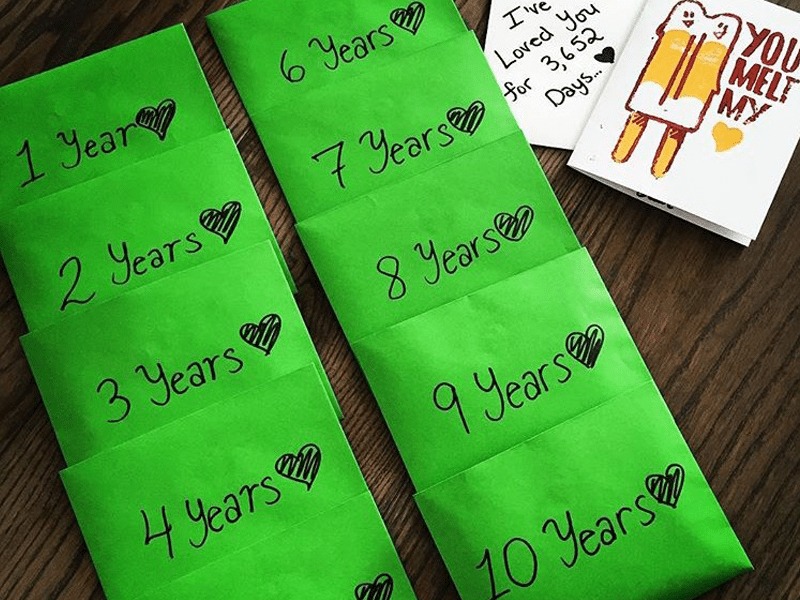 Last year, my other-half and I celebrated our 10 year anniversary. That's a big number, so I wracked my brain for what to do for a gift. I searched Pinterest and Googled the best gifts for your spouse, but nothing seemed to do 10 years justice. Then I came up with an idea (I know I didn't invent it, but give me a little credit here, okay?) that would not only benefit both of us, but would be the gift that just kept on giving.
I decided to create, plan, and pay for 10 date nights for the two of us.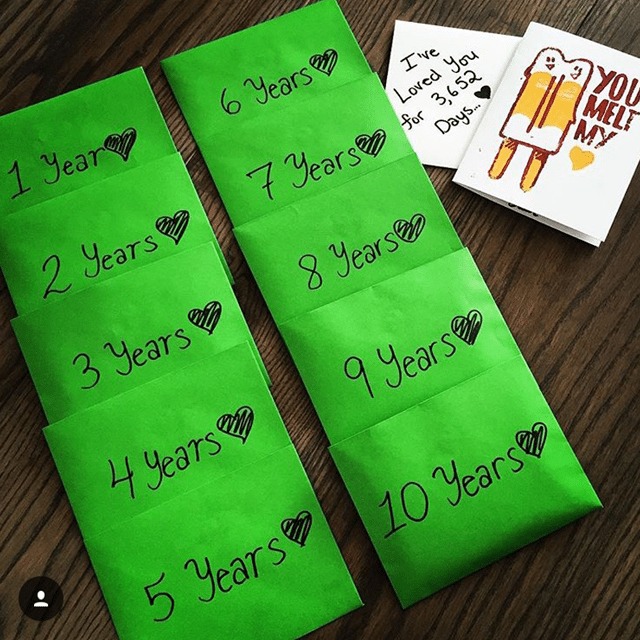 Here's what I did:
I took 10 envelopes (11 actually, because 1 just included a card with all the mushy love stuff) and wrote "1 Year" "2 Years" "3 Years", etc. on each one.
I made a list of 10 date nights (you could even go as far as to designate each date by what you did most each year, or you could simple just come up with ten ideas).
I went out OR went online (the computer + the internet + a printer = a magical thing) and stuffed all of the planned and paid for date nights into each envelope.
I watched him open up all the envelopes and saw his jaw drop more and more with each one, saying, "This is amazing!"
We went out and enjoyed all of the dates over the next few months…see what I mean about the gift that just keeps on giving?
Now, these don't all have to be expensive date nights by any means. Here is a list of some at-home (this is definitely a way to save some moola or a way to not hire a babysitter if you have kiddos) and some not-at-home date nights that may interest you.
At-Home Dates:
Do a puzzle
Drink tasting and pairing
Play a board game (or card game)
Dinner & Movie with a theme
Picnic (in your backyard)
Walk & Talk (& maybe catch some Pokemon if that is your thing)
Make Homemade S'mores
Fill out a favourite things questionnaire
Video game karaoke (right?!)
Breakfast or Dinner in bed
Not-At-Home Dates:
Go to a baseball/football/hockey game
See an improv show
See a stand up comedy show
Go to a concert or a play
Brewery tour or wine tasting
Starbucks & Chapters
Couple's massage
Bowling or mini golf
Dinner & a Movie (or Movie & Ice Cream)
Science Centre (check out the adult night!)
I hope this helps you surprise your spouse, cross some things off your wish list, and get you out being a tourist in your own city! And I always love new date ideas, so feel free to send your suggestions my way!