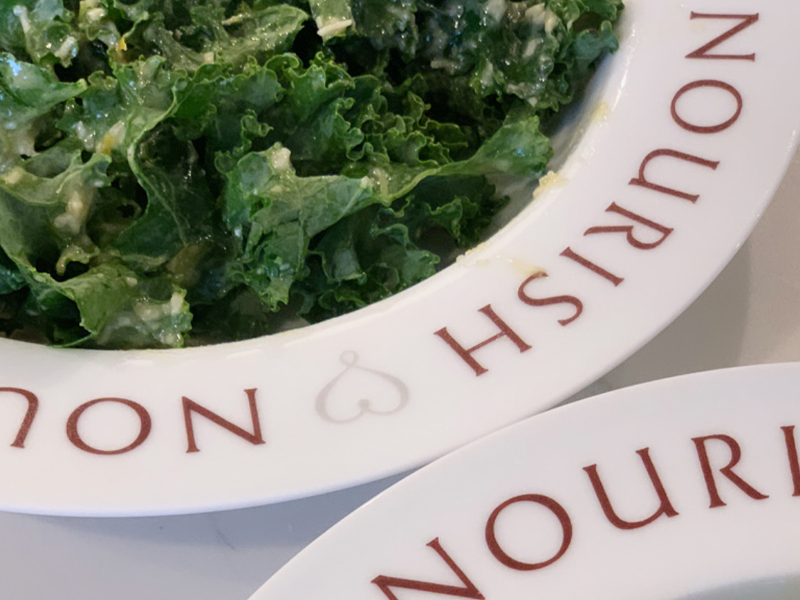 When I was pregnant, I avoided anything and everything that was a 'maybe should avoid.' That was just my own personal choice, as it gave me more calm to feel like I was 'following all the rules.' But my caesar salad craving was so real. Now, what to do if you want caesar salad without a raw egg? Make your own! So, I came up with this recipe. We fell so in love with it, that it's become a regular in our house! I gave this recipe to my email list about a year ago…remember to join my list, as every once and a while I'll give you a little bonus recipe! But, now it's time I share it with everyone. Hope you enjoy!!
Kale "Caesar" Salad
Serves: About 4 Salads
Ingredients
1/2 cup Parmesan, grated (I suggest getting a fresh block of Parmesan)
1 lemon, zest and juice 
2 garlic cloves, minced
1 tbsp. dijon mustard
1/8 tsp. Worcestershire sauce (you can just eyeball a couple shakes too!)
1/8 tsp. salt (you can eyeball this one too)
1/3 cup olive oil 
1 bunch fresh kale, washed and stems removed
Black pepper, to taste
Directions
1. Grate Parmesan and put into a food processor (or blender). Then…
2. Zest and juice one lemon, and add to food processor. 
3. Mince garlic cloves, and add to food processor.
4. Add dijon mustard, Worcestershire sauce, and salt to food processor. Blend all those ingredients together.
5. Add olive oil, and blend again. 
6. Wash kale, remove from stems, and rip into desired salad-size. Massage dressing into kale.
7. Top with black pepper, and enjoy!
Tip #1: Let the dressing sit on the kale for a few minutes before serving/enjoying! And/or "work" the dressing into the kale.
Tip #2: I'd say this recipe makes dressing for about 4 salads, but start with less dressing, and add as you need.

Depending which kale, parmesan, olive oil, etc., I use, the entire taste can change, so enjoy experimenting with your favourites!