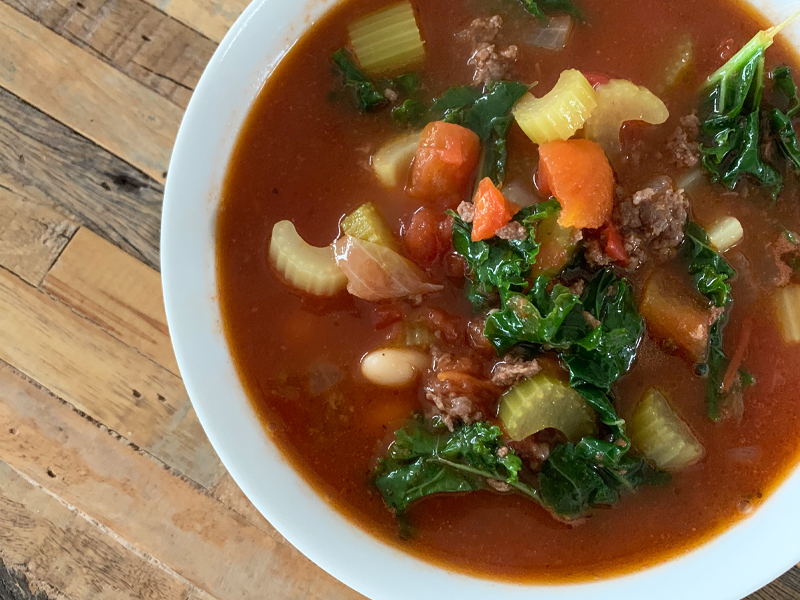 It's about time I gave you a recipe. Not sure if you're a "soup is only for winter" person, or if you're like me and think soup can happily be lunch every day for all seasons. This one is a hit in our house, and it's heavily inspired by a soup in the Yum and Yummer cookbook. There is so much flexibility in this recipe with the types of ground meat, beans, veggies, stock, etc. The great part is that no matter what combination I choose, it's never a fail. So, enjoy!
No Fail Soup
Ingredients
2 tbsp. olive oil
1 cup white onion, chopped
2 garlic cloves, minced
1 lb. ground meat (turkey, beef, or chicken)
2 cups vegetables, chopped (carrots and/or celery)
4 cups stock (chicken or vegetable)
1 can (28 oz.) diced tomatoes
1/4 cup tomato paste
1/2 tsp. black pepper
1/2 tsp. oregano
1 tsp. coconut sugar (optional)
1 can beans, washed and drained (black or navy)
3 cups leafy greens (spinach or kale)
Hot sauce, for topping (optional)
Directions
1. Wash and chop white onion and garlic. Heat a large pot over medium heat, add olive oil, onion, and garlic. Cook until onions are tender.
2. Add ground meat to the pot and cook until meat is cooked through.
3. Wash and chop vegetables. Add vegetables, stock, diced tomatoes, tomato paste, pepper, oregano, and coconut sugar (optional) to pot. Stir, and reduce to low heat for 20 minutes.
4. Add beans and leafy greens to pot and simmer for 5 minutes.
5. Top with hot sauce to serve (optional).
Eat up!!