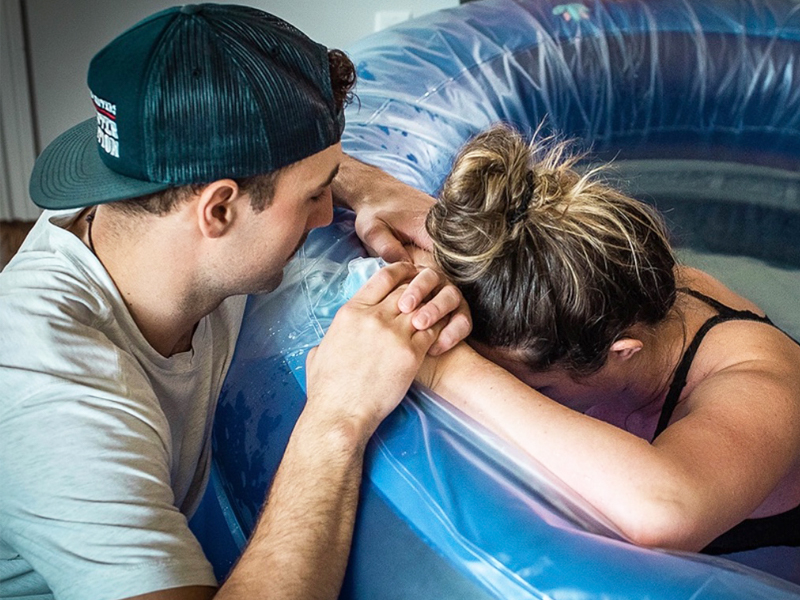 Disclaimer: This is my story as I lived it. Everyone's story is different. Everyone's perspective is different. I am sharing this because others have asked, but I request that you are respectful with your opinions and not read yourself into my narrative. Every birth is beautiful for what it is! Thank you.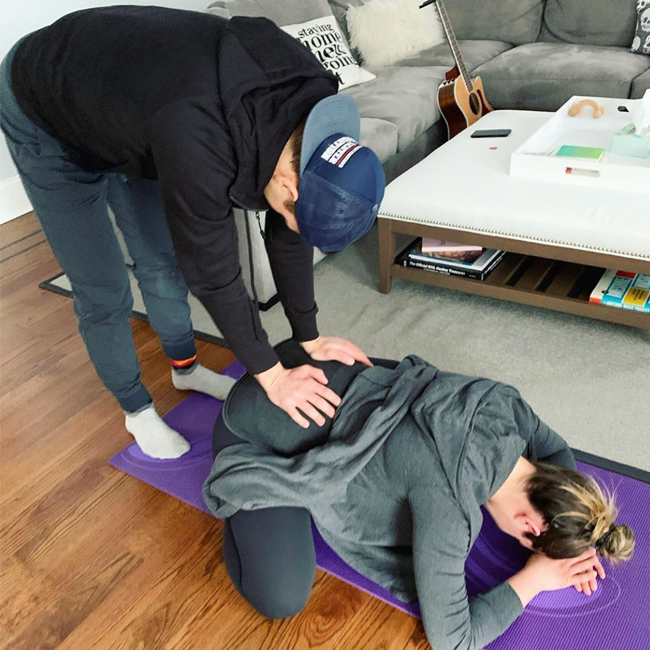 Four days past my due date I started having more intense contractions (not simply Braxton Hicks). They would range anywhere from 4 minutes apart to 10 minutes apart. The midwives and I kept thinking baby was coming. It would keep building up like this each day and then fade to longer periods at night…for 6 days. On the 6th day of that, (now 9 days past my due date), I woke up and carried on with those contractions – had breakfast, did some cleaning, was going about my day. The contractions started to feel even more intense and seemed closer together, so by 9:20am, I decide to track them. They were about 3 minutes apart and lasting for a minute and a half at a time. By 10am, Jordan and I called the midwives thinking this was the real deal – they listened to me breathe through my contractions on the phone and said it sounded like I was still handling them really well (thank you, Hypnobirthing practise!), so they told us to keep them posted as I progressed. I wasn't very forward, because I thought I was crying wolf, seeing as this had been going on for days – I thought the contractions were going to die down again.
Jordan suggested we go for a walk to see if they kept up. We only got 8 houses down when my water broke, and then it was game on. That was at 10:47am. I was literally on all fours on the grass, breathing through contractions, and then standing up and walking home again. A neighbour even drove by to check if we were okay and offered us a ride…don't worry, I didn't mess up his car…I continued to walk home. As we were heading home, Jordan called the midwives, our NY doula (as my sister-in-law doula, who had been with me for the last 10 days, had to head back to Canada the night before…Covid-19 will always be a part of this memory for the rest of our lives), and our birth photographer – he told them to head on over.
We got back to the house and went right upstairs. By this point, all the things Jordan and I had been practising (like counter pressure on the back) were not my jam anymore. I asked him to start filling up the tub. He was working his butt off to fill up the tub that I was going to birth in, as well as our house tub, so I could get some relief in the mean time. Gradually over the next hour, our photographer, doula, and midwives arrived. They all were a complete dream team – giving me positive affirmations, massaging me with essential oils, and being so supportive. Then I puked…twice…(starting at 11:35am) and I was so pumped, saying "does this mean I'm at transition already?!?!" I sure was!! So I hopped into our tub, as the other tub was still filling, and it was the greatest thing in the whole world! Such relief!! I was crushing coconut water (and regular water) the entire time.
Once the large tub was filled, I transferred over to it, and it wasn't long before I felt the need to start roaring my baby out – I was singing low sounds and talking to my baby through each contraction. Once, I asked baby to give me a little breather, as it was all going so fast, and believe it or not, babes gave me that! I asked how close baby was and the midwives told me to reach down and feel – when I did, I could tell the baby had a full head of hair!! By 2:05pm, our baby was in my arms. Turns out, I had a very short placenta cord and when I pulled our baby up, my cord snapped – the midwives were on top of it and within less than a minute (probably seconds…but time feels so weird during birth) they had clamped both the baby's and my part of the cord, so that all was well. Delayed cord clamping did not get to be a part of my birth story, but I was so grateful for their quick and educated reactions – as was Jordan, after watching it square on.
Jordan announced that our baby was a girl!! Then he did skin to skin with her as I finished birthing the placenta. After that, I got out of the tub, got all wrapped up by everyone taking care of me, and got set up on the bed to enjoy skin to skin with Collins (she now had a name!). We started breast feeding while our doula went to our kitchen to make me tea and food. The midwives completed all the newborn tests and made sure we were all situated as a new family of 3! By 5:30pm everyone had left and Jordan, Collins, and I got to cuddle in bed and be in awe of the experience we just had!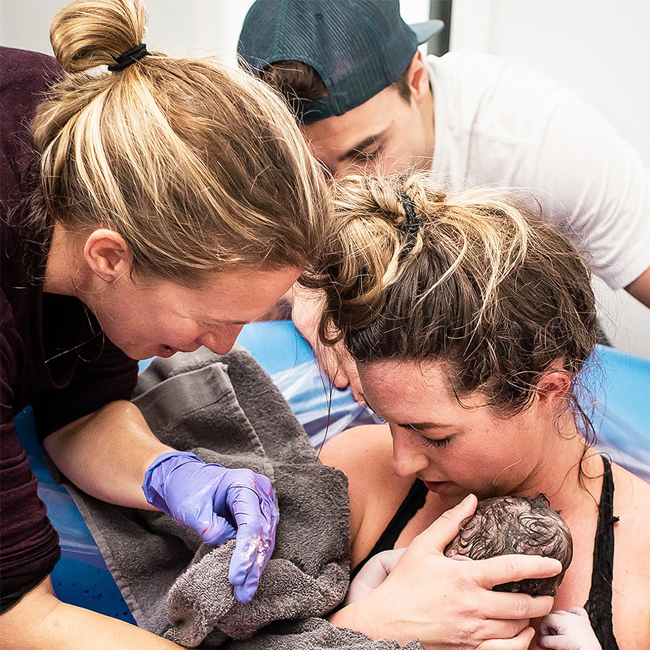 I am beyond grateful that my birth experience was empowering and beautiful and everything we wanted it to be. I was grateful to be at home with our healthy, happy baby. I truly couldn't have asked for anything more.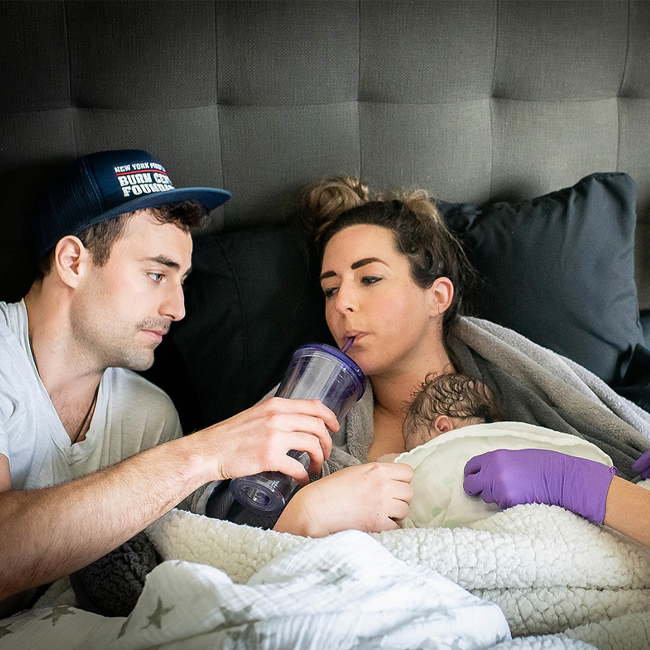 If you want to hear more about my birth story, feel free to listen to my chat with the Doing It At Home Podcast hosts on Episode 340!
All you mamas out there…you are strong!!!