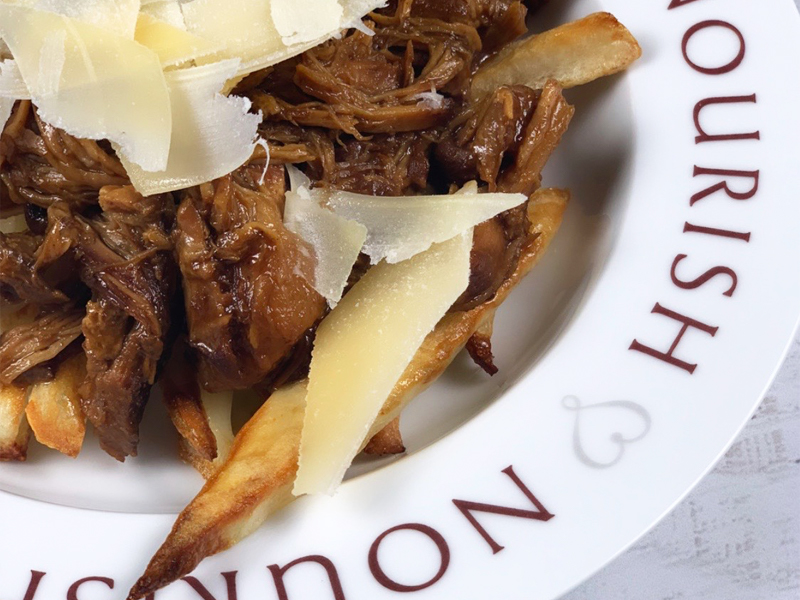 Whether you are here for the pulled pork, or the fries, or the combo for poutine, here's the recipe!

Pulled Pork
Ingredients
About 4 lb. pork shoulder
1/4 cup brown sugar
1 tbsp. chili powder
2 tsp. garlic powder
2 tsp. onion powder
1 tsp. salt
1 tsp. black pepper
1 tsp. hot sauce
1 bottle of your favourite BBQ sauce
Directions
Combine all ingredients (except pork shoulder) together in a bowl.
Place pork shoulder in a crock pot and pour the sauce over it.
Cook on low for about 7 hours.
Once it's ready, use two forks to pull the pork shoulder apart.
Fries
Ingredients
4-6 potatoes
Canola oil
Salt
Directions
Wash, peel, and slice potatoes into desired fry-shape.
Soak potatoes in a bowl of cold water for a couple hours or in the fridge over night.
When ready to use, drain the potatoes and pat dry.
Preheat oven to bake at 450 degrees Fahrenheit.
Spread out potatoes evenly on stoneware (fries cook so well on stoneware) or baking sheets.
Evenly coat potatoes with canola oil using a basting brush. Sprinkle salt over potatoes.
Bake at 450 degrees Fahrenheit for 35 minutes or until desired crispiness.
For a poutine bowl, fill the base of a serving bowl or plate with fries, top with pulled pork, and then add your favourite cheese!
Enjoy!!