I thought I was pretty good at organizing. But truth is, my organization game had nothing on The Bare Abode. I was so grateful when I stumbled upon the magic minds of Sam & Peyton, who virtually and over email were able to up my organization game with Collins' closet. I got it all set up just in time for us to move back to New York…but, the beauty was that having it all organized not only made it easier to pack, it also will made it much easier for my return, by knowing where ever item's home would be.
The Bare Abode agreed to team up with me on this post, so you too can make your baby's closet a place where you legitimately want to hang out! Please note that all my words will be in italics and all The Bare Abodes words will be like this.
Bins
I learned that bins are key – they look great and they keep everything in it's proper place. I had started organizing C's old clothes by age/size, but it wasn't nearly as pretty as what we have going on now. The Bare Abode was able to send over suggestions that would work great with the space I had.
Lauren had a great start for C's closet! She had most of the necessary items needed to make C's closet organized-heaven, but she just needed a little help making it more aesthetically pleasing. Our first plan of action was to get all matching bins and bin clips. We sent Lauren many options for her to choose from and sent her links. She ended up going with Decomomo neutral fabric bins from Amazon. Matching bins makes everything look so clean and organized and the labels bring it all together. We love the bin clips from The Home Edit & I Design at Canadian Tire – they are clean, clear, and perfect for any type of bin. We also used our Custom Clear Labels for this project. They look perfect in this space!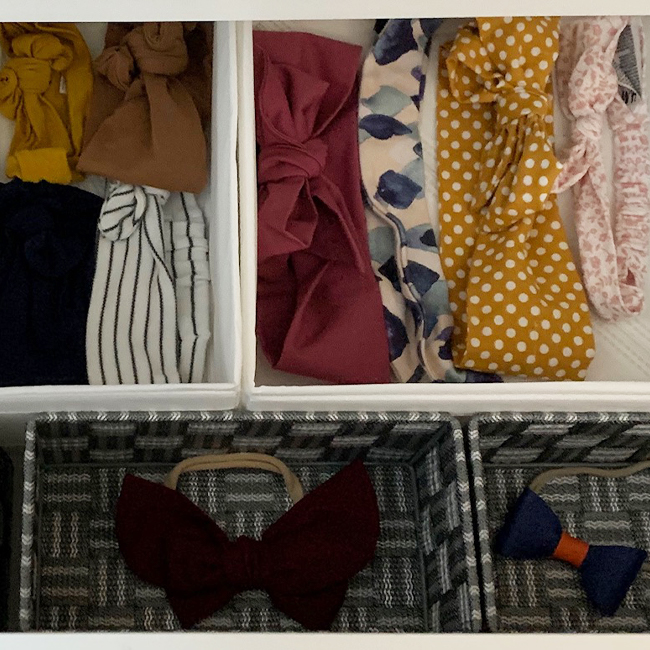 Drawers
I already had drawer organizers, thanks to Ikea, but I quickly learned what should really be in those drawers. I was literally putting everything that C currently fit into in those drawers, thinking it was less work to fold than hang, but the problem was that it was packed so tightly, and I couldn't see all her options. Now it's organized better with all her cute bows up top, pants and short sleeve shirts and onesies in the middle, and pajamas and socks in the bottom.
We run into this problem lots with mamas! They love folding their baby's clothes thinking it's easier, but in reality, it makes for a lot of time trying to find the itty-bitty clothes jammed in those drawers. We suggest you fold the essentials and the items you are always "grabbing" like pyjamas, socks, pants, and the basics. Then, we always suggest putting your nicer clothes for occasions in the hanging space and clothes that are too bulky to fold like sweaters, jumpsuits etc..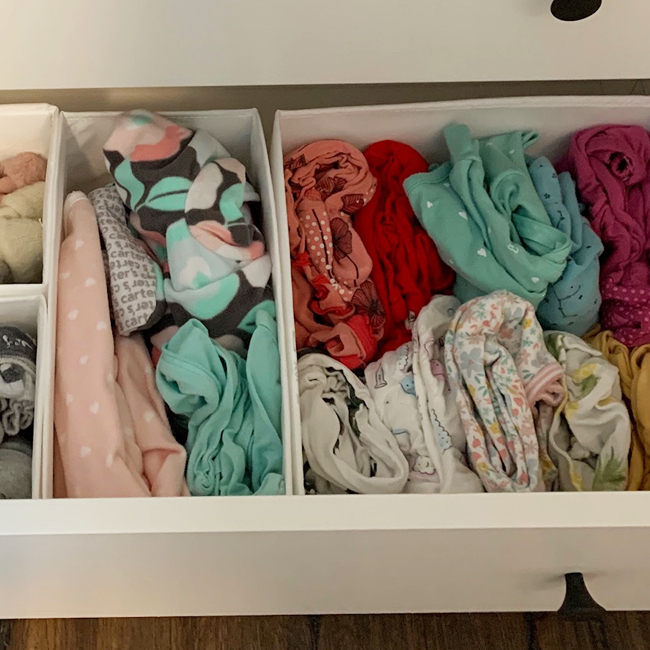 Hangers
I was gifted many handmedown hangers, but I really didn't need that many hangers all in C's closet, so I moved the extra hangers to a future kid's one day closet, and then got all C's long sleeves, jumpers, dresses, and sweaters hung up! I'm also excited for these organization hooks to indicate sizing at a quick glance!
Lauren had so much hanging room and so many hangers. We always suggest having some backup, but, moving the extra hangers. Lauren kept the matching ones – to keep it clean and simple is the signature TBA look. We then grouped all of C's clothes with adorable hanging dividers from Etsy. In the dividing sections, we also suggest to group by garment to keep it even more organized. Keeping it simple and easy makes everything so easy to find and so rewarding in the end.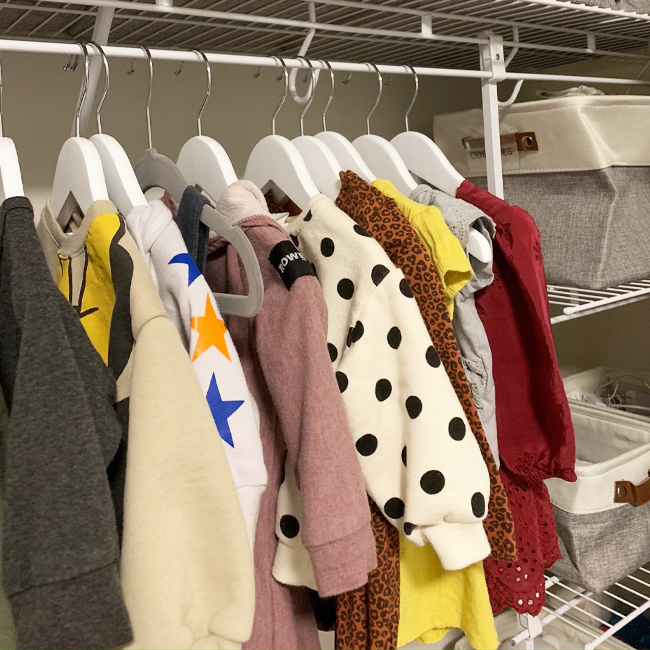 Labels
The Bare Abode did it again and upped my label game! They made beautiful custom clear labels that allow for me to quickly spot what's in each basket!
Labels are everything to us. It's what quickly transforms our projects from good to great. We have become so passionate about making the perfect labels for any project and C's room was no exception. Our Custom Clear Labels are perfect for clear bins and bin clips, just like Lauren received. We may or may not be launching these to the public in the new year, so keep your eyes peeled 😉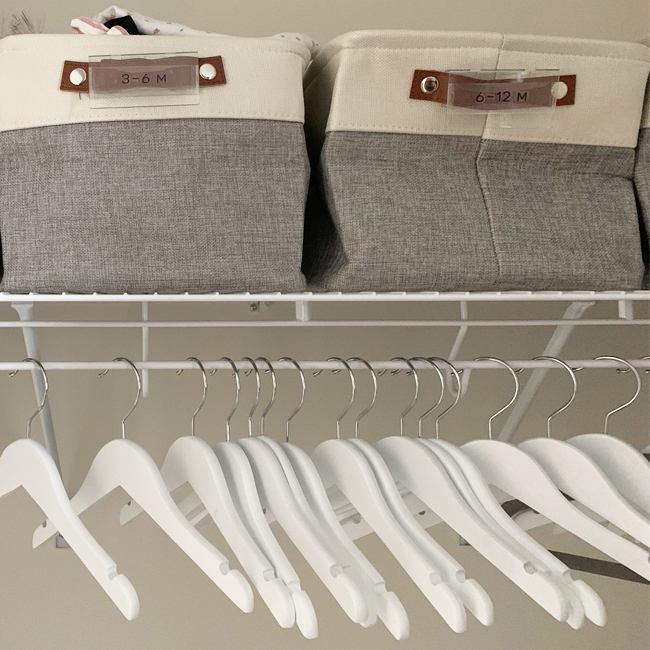 Folding
I could use a class in pretty folding, which I'm sure Sam & Peyton could easily run, but until then, they gave me some great tips (like double folding pants), in order to quickly spot every piece of clothing at a glance.
Laurens drawers already had the fundamentals for the perfect baby drawers with her Ikea inserts. She just needed us to teach her our secrets, like the classic double fold! We always fold using a file fold system. You can then see everything in your drawers and won't forget about items on the bottom. The more accessible and in sight all clothes are, the more often your baby will wear them, and it will be so much easier for you on a daily basis.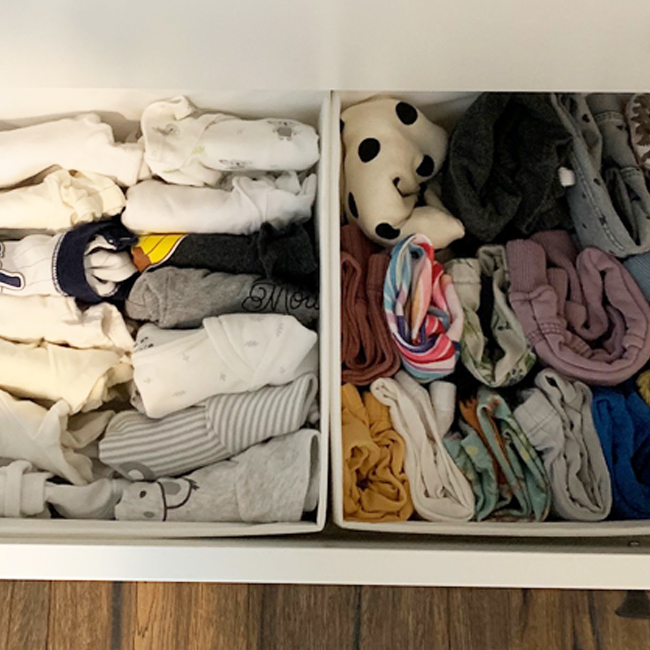 Organizing C's closet wasn't wildly expensive, but now it's so easy to use, maintain, and especially pretty to look at!

We are so happy and honoured that Lauren chose us for this project. We are so happy with the outcome of it and so proud of Lauren that she did all the TBA signatures on her own. And you can too! If you are interested in doing a virtual project like Lauren did or in person project with us, head over to our website and our Instagram!
Happy Organizing!