Okay, before anyone calls me out, I know technically this would be called "dressing," as we are not using it to "stuff," but I find dressing can be confusing…are we making salad dressing? So, I continue to call it stuffing. I've never actually "stuffed" a turkey – I have always preferred it casserole-style. In my Brownie Pan Every Damn Day Cookbook 2.0, I have a Stuffing Squared recipe, which I like to make when serving a small group, as everyone gets their own individual stuffing portion (great for a potluck, I must add). When serving a larger group, a casserole dish is the way to go! I have been in charge of the stuffing for holidays since back when I was living with my parents, but I have never, ever measured, which seems to be a theme for me. This past Christmas, I tried to measure, so that I could give you a consistent recipe. That being said, your Stuffing Casserole will still turn out amazing even if you add a little more seasoning, or a little less butter, etc. My suggestion for the chicken stock (or whichever kind of stock you choose to use) is to gradually add, so you can evaluate consistency (you don't want it too runny or too dry). So, whether stuffing is a regular in your house, or you're saving this recipe for the holidays, I hope you enjoy my stuffing casserole!
Stuffing Casserole
Ingredients
10 cups bread, cubed
1 large onion, chopped
3 stalks celery, chopped
1 stick butter
4 tsp. poultry seasoning
3 eggs
3 cups chicken stock (or bone broth)
Directions
Steps 1 to 5 I like to do ahead of time, so it's one less thing to think about with all the other food prep going on with a Turkey-style dinner. Then, Steps 6-9 can be done just before serving, usually after the turkey has already come out of the oven and is busy sitting/being carved.
Step 1 is the most important – with stuffing it is all about the bread!! The quality of the bread, the type of bread, and what you do with the bread, makes all the difference in the world! So, about 5 days before, pick up your favourite bread! I've tried every bread under the sun for stuffing, and nothing beats Cobs white bread! But, choose your favourite bread, then, cut the bread into cubes until you have about 10 cups, and leave it in a perforated bag until the day of, so it becomes more crouton-like. If you don't have a perforated bag, you can simply open the bag, or leave the bread out in a bowl for a few days.
Chop a large onion, and 3 stalks of celery. In a pan on medium heat, melt a stick of butter. Once butter is melted, add the chopped onion and celery and cook until soft.
Let onions and celery cool and then combine the poultry seasoning.
Spread the cubed bread out in a large casserole dish into a thin layer.
Combine the onion-celery mixture with the bread in the casserole dish.
Preheat oven to bake at 350 degrees Fahrenheit.
Add eggs and stock/broth to casserole dish, mixing it all together. Gradually add the stock, so you can eyeball if you need less or more. The amount needed is often dependent on the bread. You don't want there to be a ton of extra liquid in the casserole dish, nor do you want the bread to still be dry. Once you find the perfect balance, it's ready to bake!
Bake at 350 degrees Fahrenheit for 30 minutes, or until the top is golden brown.
It's ready to serve!!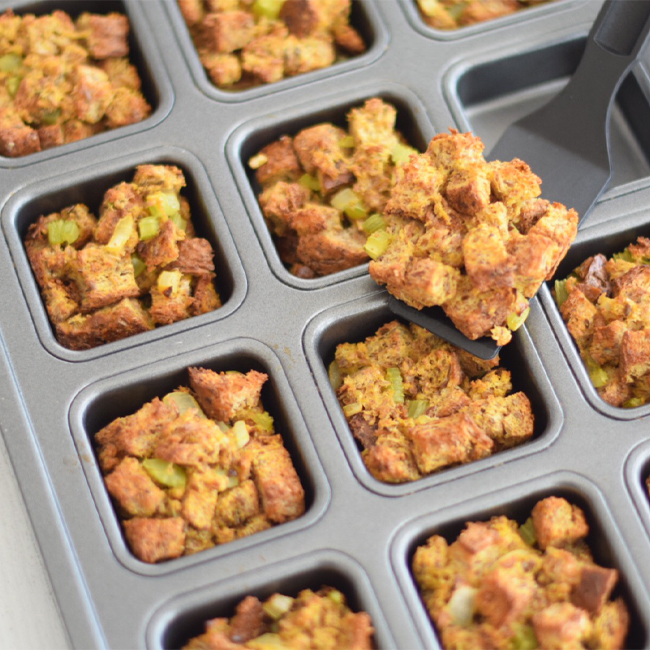 I hope this Stuffing Casserole is the perfect addition to your holiday meal!