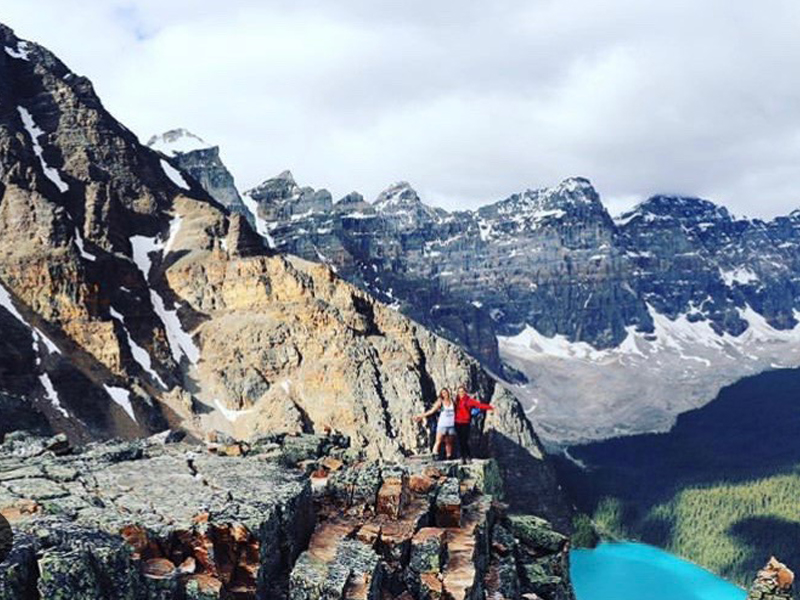 We've already covered some beginner hiking tips and the gear you'll need for that. Now let's kick it up a little with how to attempt a scramble!
What is a scramble?
A scramble can be described as "walking up steep terrain involving the use of your hands". It's somewhere between hiking, hill climbing, rock climbing and canyoning. It may not follow a way-marked path. There's no need for ropes or anything complicated like that.
Here is the tale of my adventure! 
The Tower of Babel at Moraine Lake
You know when you have something on your bucket list, and then you do it, and you're thinking, "Okay, I'm so glad I'm still alive. I never need to do that again." You know all about that, right?! Yup…this scramble was that for me. It seems a lot of my stories start with something like, 'I had no idea what I was getting myself into.'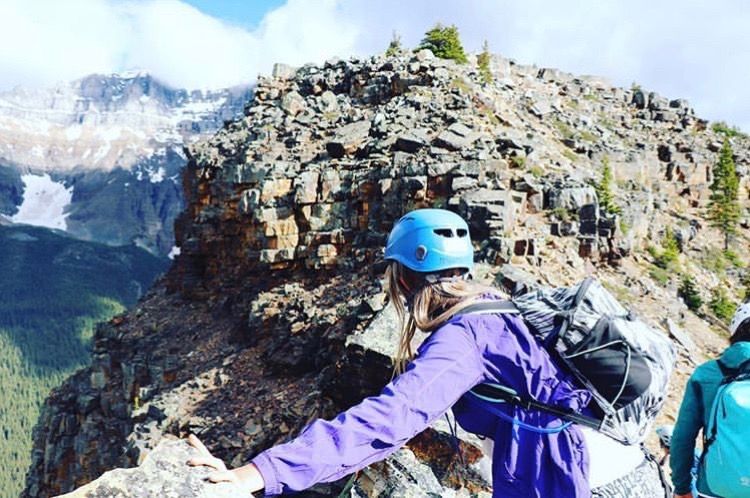 My hiking buddy, myself, and a group of ladies from the Women Who Explore Alberta group decided to go on what we heard was a "beginner" scramble called the Tower of Babel at Moraine Lake. My friend rented me a helmet (a must) and off we went. I should have known when I needed a helmet that what we were getting into wasn't for the faint of heart.
Getting There
We arrived at Moraine Lake before 7am and got one of the last few parking spots – go early, folks, or you'll have to go to an area where you'll need to wait for a shuttle, which will really set you back on time. The Tower of Babel is actually rated as "Moderate", and although it's said to only be about 2.9km out and back, we probably turned it into a 4km hike, as we started in the wrong spot…don't ask me how. We were lucky enough to only pass four other people the entire duration of the hike, as you have to be careful for falling rocks. You truly are almost crawling up (3 to 4 points of contact), and then scree skiing down. It took us 4 hours, but we really milked that view at the top and enjoyed our lunch in awe!

What You Need to Know For Scrambling
TIP: You don't want to do this scramble if the weather conditions are not great – it is said to be best from June to September, so at this point, you may want to save this hike/scramble for spring!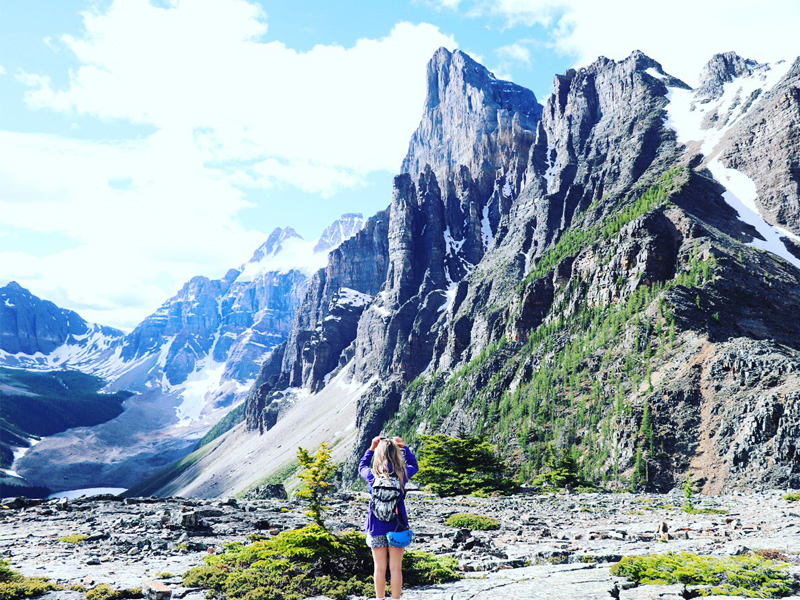 Here are some reviews I stumbled across on the AllTrails app:
"This is not a hike. Almost the entire thing is a scramble up loose rocks (which is like swimming in a pile of rocky quicksand up the mountain)." –Kirsten Beam

"This is not a moderate hike. It is hard/very hard. It is a straight up scramble where some sections have 99% grade…the first half of the scramble is loose rocks, so it's hard to get footing, and second half of the scramble is more steep, but better footing." – Raj Sandhu
"Wasn't moderate!!! It was a 5 min hike then 6 hour climb to the top!" – Hien Le
So…
What do all these people have in common? Besides the fact that they said this was hard as heck, they said it was gorgeous, it was fun, and it was worth every scrape that came along with it!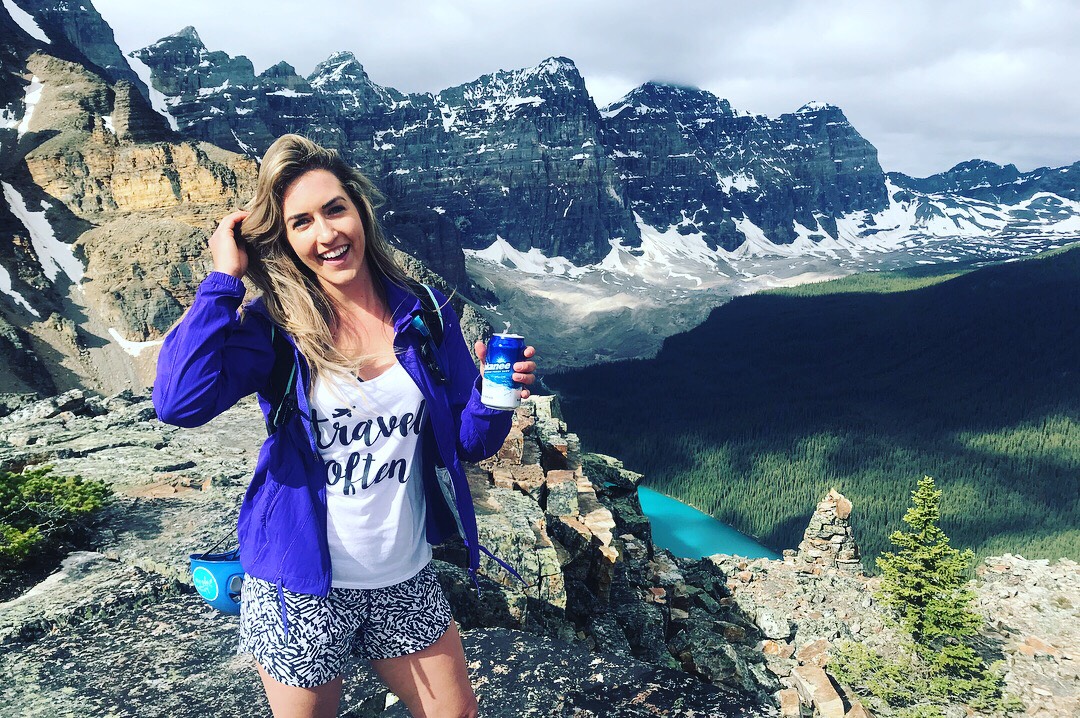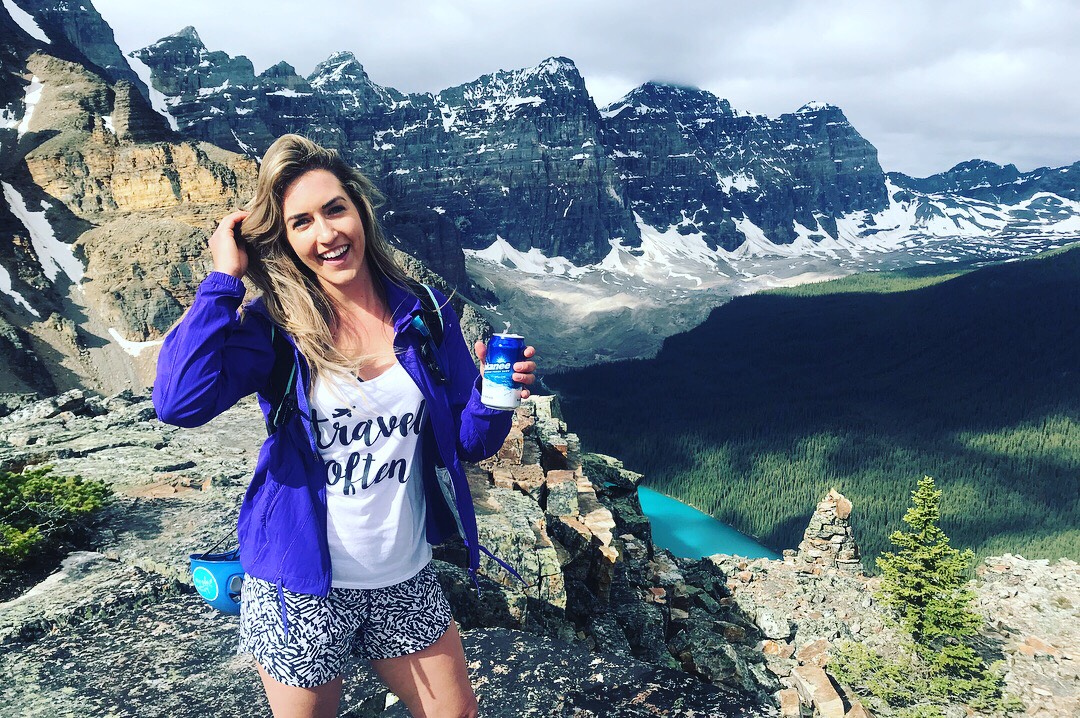 That being said, people, if you choose to do this scramble, get a helmet, have good hiking boots, PACK WATER (have I said this before?) and likely a waterpack, as you won't be able to take off your backpack to grab a water bottle, and go with people that are capable of taking on this challenge. Be safe!!