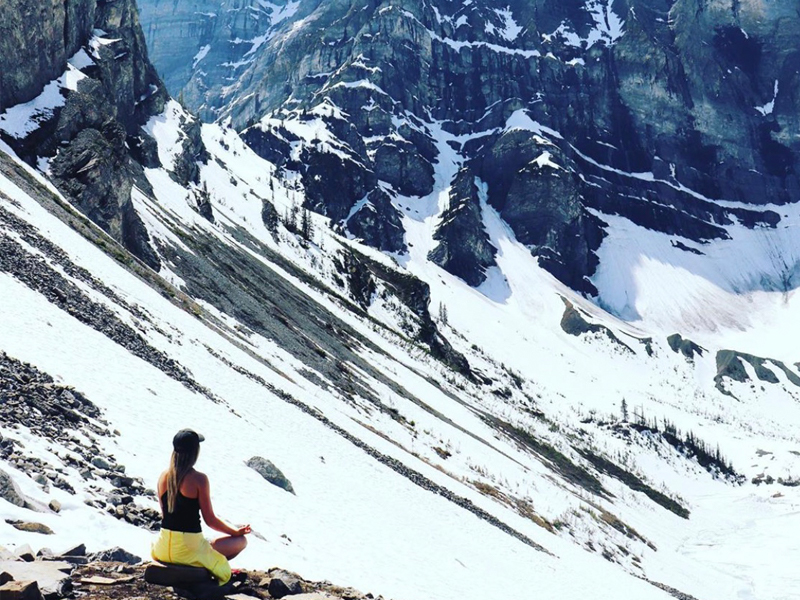 On Instagram, I asked y'all for your meditation questions, and here are some that kept popping up!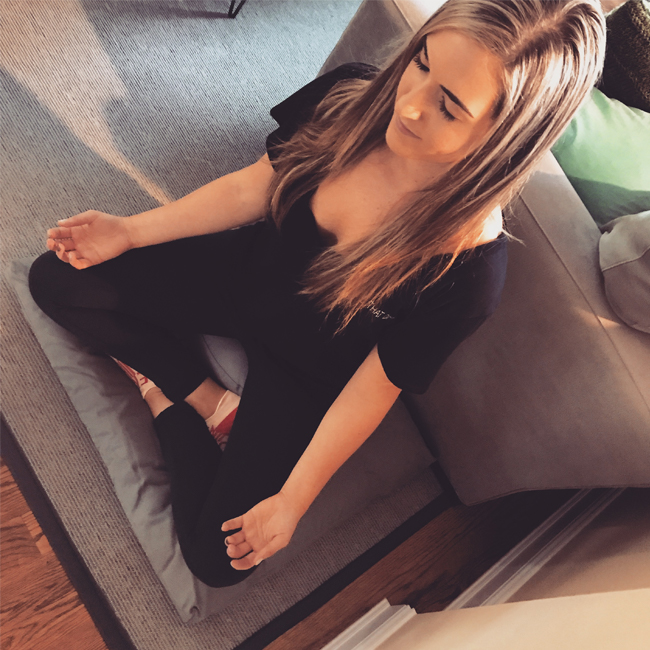 Who are your favourite people to listen to about meditation?
Dan Harris is the person that got me into meditation. His first book, 10% Happier explains the "why" of meditation, but also shares it in a way that is less fluffy, and perhaps more accessible than some. He also shows you the power of doing something daily(ish), and realizing that even 5 minutes (or less) a day counts!

Since then, he has written more books on the "how" of meditation, which didn't do as much for me as the first book, but I enjoy listening to his podcast, 10% Happier, and hearing the different speakers he has on – I love taking tidbits of wisdom from each of them.
Another good read, for the non-fluffy beginner, is Just Sit by Sukey Novogratz.
What's the best advice for a newbie?
I shared a post about meditation for beginners, and I stand by everything I said in there. My advice would be to start with a short amount of time daily, because you're trying to create a habit that will stick…you're more likely to stick to it if it seems like a smaller commitment. Secondly, realize that the point isn't to clear your mind (no one's mind is every clear) – it is to recognize when your mind wanders and come back to the breath, or your mantra, or your counting, or whatever form of meditation you are choosing to do. Lastly, take into account that the benefits you will receive will not be in the meditation itself, but in your daily life – reflect on ways you have seen a difference, because when meditation doesn't get "easier," it is those things that will keep you going!
Which apps do you use?
I've used the Insight Timer app since day one – I mostly do silent meditation, so I am really using it for the timer, and not for the guided meditations, but I'm sure those would be great too. Sometimes if I want a short guided meditation, I use Buddhify, which you have to pay for, but it's great for breaking meditation into categories, such as "before bed," "lunch break," etc.. I have heard great things about Calm, Oak, Breathe, and 10% Happier.
How long is a typical meditation session for you?
My meditations range from 1 minute to 20 mins. I don't want to put pressure on myself on days when I just can't fit in a long session; I would rather have the benefits of making it happen no matter what! That's where 1 minute comes in. On busy days, taking a moment to stop and breathe and be mindful is likely when I need it most! So, I'd say, my average sessions are 8-12 minutes.
I find it hard to clear my mind. Any tips?
As mentioned above, one of the biggest misconceptions about meditation is that your mind is supposed to be blank. No way! You have a lot on your mind, and your brain is working hard. It isn't going to be blank…not even close. You're going to be thinking about a huge laundry list of things. What meditation is doing is teaching us to hone in and focus in on one thing at a time. So, when you start thinking about your to do list, or what you want to eat for lunch tomorrow, or how you're really mad at your friend's sister-in-law's cousin's aunt, you can recognize your mind drifting and bring it back to your breath; bring it back to meditation…and give yourself a pat on the back for a meditation well done.
Do you plan on continuing meditation when you have a busy baby?
Absolutely! I have heard the saying that goes something like, "When you have time, meditate for 20 minutes. When you're busy, meditate for 1 hour." The rationale being that, when you're busy, you need meditation more. So, when I have my little busy babe in my arms, I will definitely continue my practice. And that's why I'm grateful that I've given myself grace with the amount of time I dedicate to it. I will be able to continue to do it daily knowing that some sessions may be shorter, and some longer. I also hope that the mindfulness meditation has given me will flow over into my parenting.
How has daily meditation changed your life?
The practice of meditation gives you delayed gratification. The benefits from it are not found in the meditation itself, but how it serves you in the other hours of your day. I have found myself to be more mindful and more present. I posted recently about meditation and the quote, "Be where your feet are." I find meditation has helped me to enjoy those moments and be (or at least try to be) fully there, rather than thinking about the next thing or rushing through the moment. It has made me more calm when I need to be…aware of when I need to just take a breath. In that regard, it has made me able to stand in a long New York line without being frustrated, as I'm there with myself breathing. And, it has energized me. Sometimes when I hit a wall in the day, I add in another short meditation, and the breath in my body brings me a back to a vibrant state!
How do you not fall asleep during meditation?
The quick answer – I meditate sitting up! Using a meditation cushion, or a chair, or even in your car, will make it so you don't fall asleep. Lying down makes it a bit more challenging! Unless that's what you're going for, of course…
Do you do guided meditation?
I mostly do silent meditation. I like how the practice of silent meditation is more relevant to me in my daily life, and I can literally do it anywhere. I find silent meditation more relaxing and it keeps me more focused than guided meditation. But for others, they may feel different. For years, I simply counted the breath. In, "1," out, "2", in, "3,", out, "4," etc. When my mind would wander, and I'd come back to the breath, I'd start over at 1. In the last year and a bit, I have started doing my own form of transcendental meditation/a mantra….I say "health (healthy baby)" on the in breath, and "love" on the out breath. When my mind wanders, I bring it back to those words. One day, I would like to do more with Loving Kindness meditation where you wish well to yourself, a loved one, and a challenging person.
What kind of mat do you use?
You really can use any mat (or anywhere to sit), but the brand I have for my mat is Zentra. I ordered it online, and I do love having a consistent place to meditate that doesn't hurt my back when I'm sitting cross-legged for extended periods.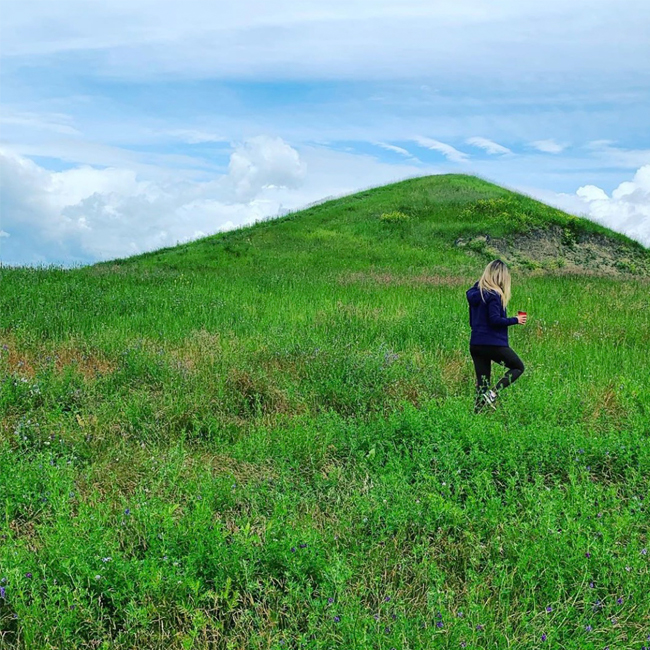 Well, what do you all think? Are you ready to start? Have you already started and some of these things helped you? Are you way farther than me in your journey anyways? I'd love to talk about all things meditation, so if you have anything to share, feel free to message me over on Insta…and, happy meditating!