I love coming up with ideas for music recital treats every year! Usually it involves some sort of candy or dessert, but this year I decided to craft-it-up a bit more than that! I took this idea from two gifts I have received – one from a friend (who did this with my wedding Save The Date…how special) and one from a student (who did it with sheet music).
DIY Christmas Ornament
What You Need
Clear (plastic or glass) ornaments [found at the dollar store around Christmas or on Amazon]
Sheet music (scrapbook paper, or printed paper, or any paper that holds special meaning, like an invite or announcement)
Scissors
Thin ribbon of any colour (optional) [I used this as a hanger for the top of the ornament and to tie a candy cane to each one]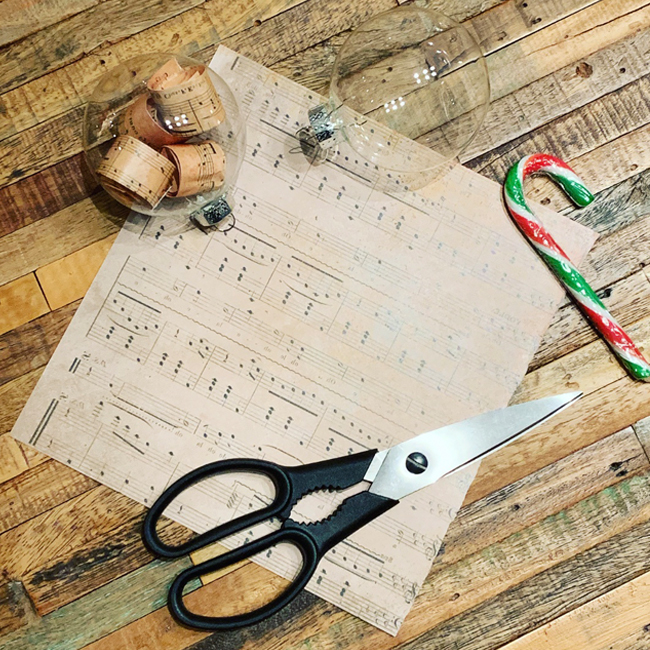 What To Do
Step 1: Gather up all your supplies.
Step 2: Take the tops off each ornament.
Step 3: Roll the paper into a tube and then cut it into strips.
Step 4: Roll each individual strip nice and tiny, so you can fit them through the top of the ornament.
Step 5: Place the top back on the ornament, and if you choose to do so, add a thin ribbon to serve as the hanger. Feel free to attach a Christmas note or a candy cane!
This is a great (and easy) sentimental gift…I truly cherish the ones I have been given and love putting them up on the tree every year. They are wonderful for teachers, students, friends, and they are even a great craft idea for kids to do themselves!