I have to be honest, eggnog is one of those drinks that I like the idea of more than I like the taste…I have the same feelings about hot apple cider and mulled wine. I love that it's winter and I'm drinking a seasonal beverage, and I love how it gets me in the spirit, but am I ever just cravinggg a cup of eggnog? Not overly.
The funny thing is that once I started trying out making homemade eggnog, I LOVED it! I've switched up the recipe every time I've made it, so up until now, I haven't had anything super consistent. In the past I was focusing more on paleo eggnogs, but this year I was looking at creating a vegan eggnog (essentially, an eggnog without the egg). Here is the recipe that took the cake (or nog, rather) for my family Christmas.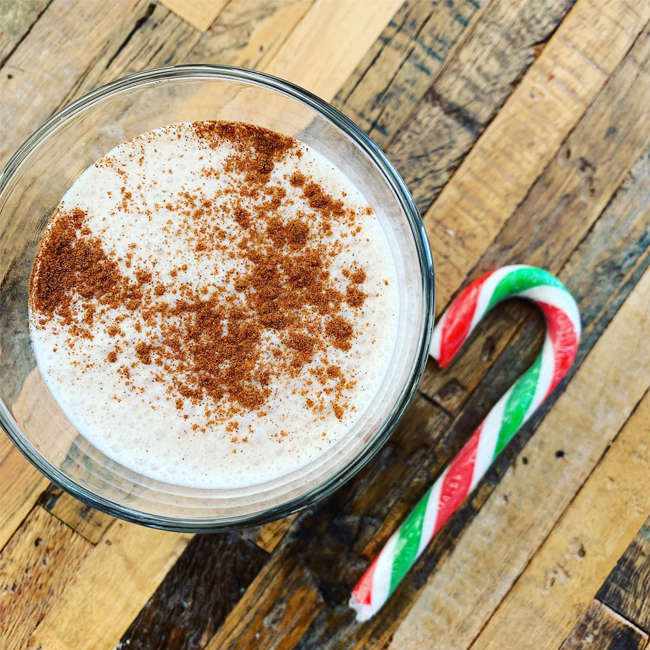 Vegan Nog
Serves: About 8
Ingredients
1/2 cup raw cashews (soaked in water for about 2 hours, and drained)
2 cans coconut milk
1/2 cup water
2 tbsp. Stevia
2 tsp. vanilla
2 tsp. cinnamon (plus extra for topping)
1 tsp. nutmeg
Directions
Soak cashews in water for about 2 hours (or you can soak them overnight in the fridge).
Drain cashews and place in a blender. Add the remaining ingredients to the blender.
Blend it all up! Serve right away for a thin beverage, or chill in the fridge to thicken.
Serve with your favourite poison – white rum, spiced rum, bourbon, whiskey, etc. (optional).
Sprinkle with cinnamon (optional).
Drink up!!
Tip: I highly recommend chilling in the fridge if you are going to add additional liquid to it after (A.K.A. liquor), as the thicker consistency is more Nog-like.