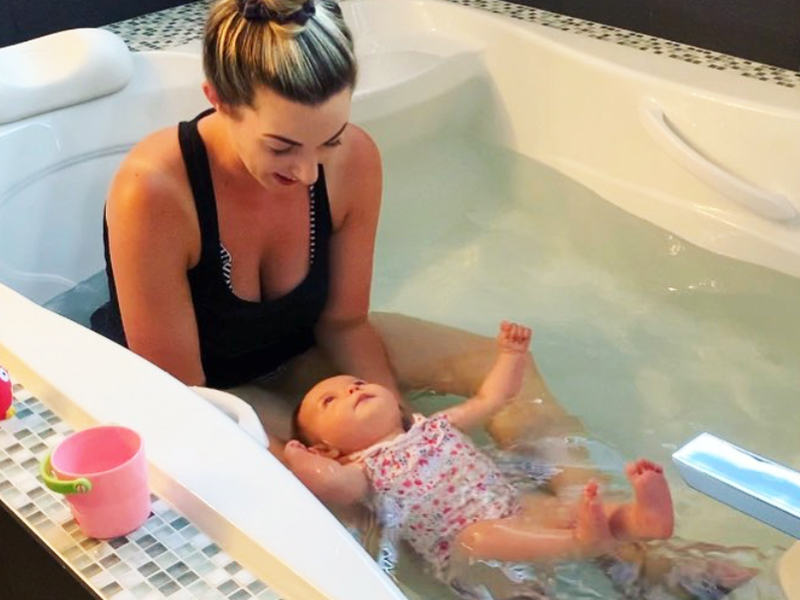 When Collins was just over two months, my friend told me about online swim lessons…I was sold instantly. I always planned on putting my kid(s) into swimming lessons early, because I think it's an important life skill, it's fun, AND we live on a lake. I didn't necessarily expect I'd put them into lessons THAT young, but now, I'm the biggest advocate for it!
Not only did I love the online option in a pandemic world where I couldn't get my baby to a swimming pool, but I now will be doing virtual swim lessons (and bath tub learning) with all my children. Anyone with a newborn knows that they have an ever changing sleep schedule…and to get your newborn or young baby to a swimming pool at just the perfect time, where they've napped, been fed, changed, and are happy, is an Olympic sport in itself! And I only have one kid…I'm sure adding more kids into the mix would make that even more challenging. I've heard many parents say that their first kid got all the parented activities, and then it faded as more schedules were thrown into the mix (it can become too hard to coordinate, or to get childcare for). Well, now there's a solution!
The biggest takeaway from our lessons with K&K Online Swim is my comfort in the water with C. I thought I was comfortable in the water myself, but adding my child into the water was a whole new ball game. I've since learned how to keep my cool (in order for her to stay calm), how to respond accordingly to her different movements in the water, and how to use language that is conducive to learning. We've gone from stress in the water to a whole bundle of fun in the water, and I just adore the bonding that C and I have gained from it. It's such an exploratory activity for us to do together, and I'm so mindful whenever we swim…there's no where else my body or my mind can be.
I've loved my journey with K & K Online Swim, and I'm sure you will too, but in the mean time, Kaylee, the Founder, has agreed to answer all your burning questions!! Here we go…
Hi Kaylee! Thank you so much for sharing all your swimming knowledge with us! Can you tell us why you decided to start K&K Online Swim?
As a mother of two, I taught both my children the foundation of proper breath control and submersion from my bathtub. So, I had always wanted to have a portion of my swim school be teaching infants in their tubs, but the pandemic kick-started that idea for me. Teaching babies in their bathtubs was meant to be a starter course for parents before joining our swim schools in Alberta and Saskatchewan. I never thought it would be possible to reach parents all over the world!
Can you tell us about your other business – K&K Swim School?
K&K Swim School is 6 years old. I started the swim school in Saskatoon when my son was a year old, with the mission of teaching children to swim without flotation devices. We have since expanded our family-run swim school to Regina, Calgary, and Edmonton. Our classes are taught in a one-on-one setting (private) by our incredible swim instructors, in multiple venues across each city. We specialize in teaching learn-to-swim, and the starting age of our swimmers is 5-months-old. 
What is the best age to enroll kids into swimming lessons?
The sooner, the better! This is the exact reason why we teach an infant program in the bathtub. Children have an entire world they are learning about through exploration. Making swimming a part of life from the beginning of a child's life is life-altering for both parent and child. There are tons of physical, emotional, and cognitive benefits of learning to swim at a young age (check them out here). Learning to swim does get more psychological as the child develops and grows. Although, there is never an age that is 'too old' to learn to swim. 
If you aren't comfortable swimming as an adult, what can you do to help your children feel comfortable (or gain confidence yourself)?
So many of our parents aren't personally comfortable in the water and this can sometimes create a psychological barrier to teaching their child to swim. If you have a newborn or baby under 18-months, my greatest suggestion is to take our online swim lessons to learn how to breathe around water. All it takes is an understanding of how our body works with water in order to teach a child to swim. Later in life, learning to swim is mostly psychological. So, practicing breath control with your child in the tub or shower helps a ton for when your child is ready to learn in the pool. For adult learners, there are so many great YouTube videos that break down the introduction of swimming. Also, our instructors at K&K Swim School teach learn-to-swim to all ages, including adults!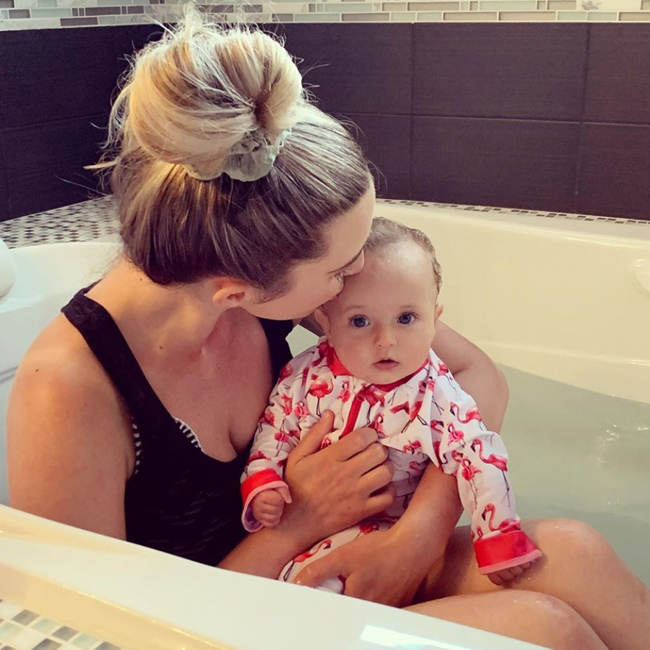 At what age, can children enroll in unparented swimming lessons?
We start unparented lessons at the age of 2. But for parents that are willing to teach their child to swim, our parent-assisted program runs until the child is 3-years-old. Teaching your child about respect for the water creates such an unbreakable bond and teaches parents about their child's physical and psychological limitations in the water.
My suggestions for enrolling a child into unparented swim lessons:
1. Build a good relationship with your instructor
2. Watch the entire class
3. Ask the instructor for feedback on how the child is progressing in the water (the more parents understand their child's ability and progress in the water, the safer and more enjoyable swimming will become)
How important are swimming lessons versus simply swimming with your child?
Lessons are important if you, as the parent, don't know how to teach your child to swim (which most parents don't). Learning to swim is a life skill that betters a child's quality of life long-term. I believe that parents can teach their children most life skills if they are confident in the skill, have the right resources, and listen to their child's needs. Most parents have the best intentions for their child and just don't know where to start.
Here is a checklist on how to find the 'right' swim program for your family:
Define your goal – Define what your objective is for your child and the water. Some parents want their child to simply love the water and others are looking for a drown-proof method of swimming (which doesn't exist). 
Understand the timeline – Learning to swim is not like riding a bike. This process is mostly built psychologically on trust and commitment, and it takes quite a bit of time for a child to become confident swimming on their own. However, you may also find yourself struggling to see the worth or value of your swim lessons, because your child's in-water progress is not visible. This is where building strong communication with your instructor is vital.  
Know your parenting-style – Does the swim school fall in line with your values? Think about how you approach your child's fear, doubts, concerns, pain, and anxiety at home. Your swimming lessons should be taught in a similar style, challenging your swimmer with compassion and explanation.  
How often should children "get in the water" to both feel comfortable and confident?
To prevent the risk of drowning, follow the rule that every time your child is in the water there must be an adult accompanying them, remaining at an arm's length away, with your child as their number one focus.
However, there are so many benefits to simply getting into the water with your child to play. Children learn through play, especially those under the age of 5. Once you know your child's physical potential in the water and the skills to get there, playing in the water becomes an incredible method of getting your child swimming on their own. Since your little one is always so close to an adult in the water and you want them to become safely independent when swimming, refrain from using a flotation device to help them float. You naturally become their assistance in the water. 
For virtual swimming lessons, what size bathtub do you need? Is there any solution if your home doesn't have a tub?
Babies can learn in a very small amount of water. However, the older the baby, the more space they take up, because they are becoming more mobile. Between 3-weeks to 9-months-old, a smaller tub works fine. You can teach your baby to swim in any body of water – lake, hot tub (if it isn't too hot), pool, ocean. The shower head is an amazing tool to help baby with breath control, if used appropriately.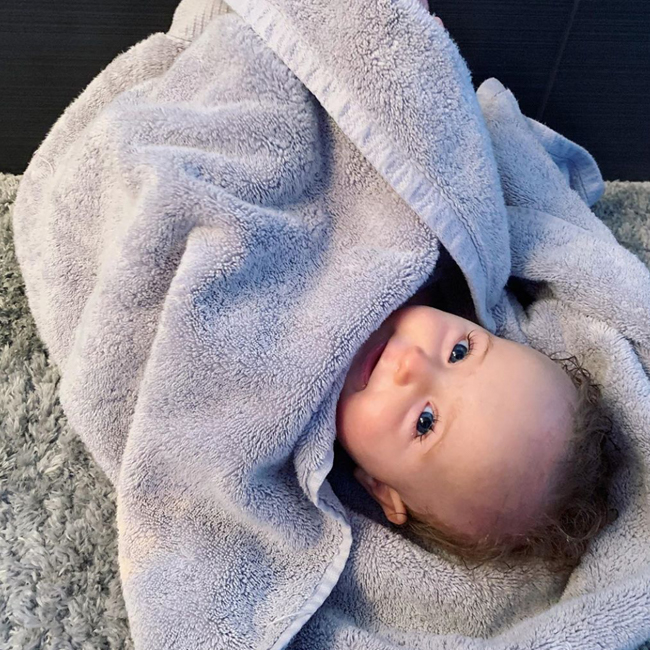 This was a popular question from parents on social media – do you have a favourite brand of swim diapers? And swim suits?
I LOVE Splash About. I have seen every swim diaper on the market and they have the most durable, affordable, functional, and stylish swimwear for babies. They are a well-known company in the UK and they have since expanded to the USA and Canada. Swim schools can't get enough of them, because their swim diapers keep everything in and prevent water contamination. 
These are the go-to items I have purchased from them and adore: 
Happy Nappy – This is your swim diaper. Stay true to your size. Get a cute rashguard to go over top of this diaper, since they look a tad like shorts. 
Happy Nappy Costume – If you have a little girl, these swimsuits will be your favorite, because they have the swim diaper built-in. 
Warm In One – If your baby gets cold easily or you swim regularly at the local pool, throw one of these polyester, fleece-lined swimsuits over the top of their swim diaper. 
Do you find a lot of parents feel anxiety swimming with their young babies? Any suggestions on combatting that?
It is normal for parents to have fears and anxiety when swimming with their baby. Embrace it and never apologize, because it's your natural instinct to protect your child from harm. Many times, all it takes is the right instructor guiding you through the process of being comfortable with your child in the water. Your instructor will only expect you to perform skills that you are comfortable with and ready for.
What is your perspective on flotation devices? When should they be used? What kind should be used?
In my opinion, flotation devices have no positive use when leisurely swimming in a pool or shallow water. Lifejackets and PFDs are to be used when boating to prevent drowning, due to injury or fatigue. 
I have taught thousands of children to swim. Children who had experience swimming with a flotation device (puddle jumper, water wings, bubbles, etc.) were the most challenging to teach, because of their poor habits around the water. Some of the physical habits that are hard to break include poor breath control, inability to self-submerge, and vertical swimming. However, the most difficult and dangerous aspect is teaching a child that thinks they 'know how to swim.' The flotation device gives children a false sense of security in the water. So, once it is removed, there is a psychological barrier that prevents the child from physically feeling the water the way they should. 
Flotation devices are not to be used as a parent's replacement in the water. There have been horror stories of children jumping into the water without them, realizing too late that they cannot swim, and drowning. Teaching your child that they are to swim with a parent 100% of the time is the safest and smartest routine that families can create when around water. 
There are many workarounds that will allow your child to experience the water safely without a flotation device, and they all include adult-participation.  
What is your biggest "water safety" tip?
I have a few favourites…
Get into the water with your child
Let them explore the water and their boundaries while you are around (get it out of their system while they are being safely monitored)
Tell it like it is…positively – explanation is key to creating positive habits around water, but don't scare them. For example, you could say, "It would be bad if you were to fall into the water without mommy there to help you breathe."
If a parent has an older child that is terrified of putting their face into/under water, where should they begin to guide them?
It all starts with breath control. Hop into the bath and purchase one K&K Online lesson to start. You will be shocked at everything that can be learned just in that one lesson. Then, if we have more work to do, our team will let you know how many more lessons to purchase to make your progress stick.
Where can people find you and follow along?
Everyone can follow K&K Online's journey on Instagram and Facebook. For any questions about the program, email online@kkswim.com and our team will be happy to help you out!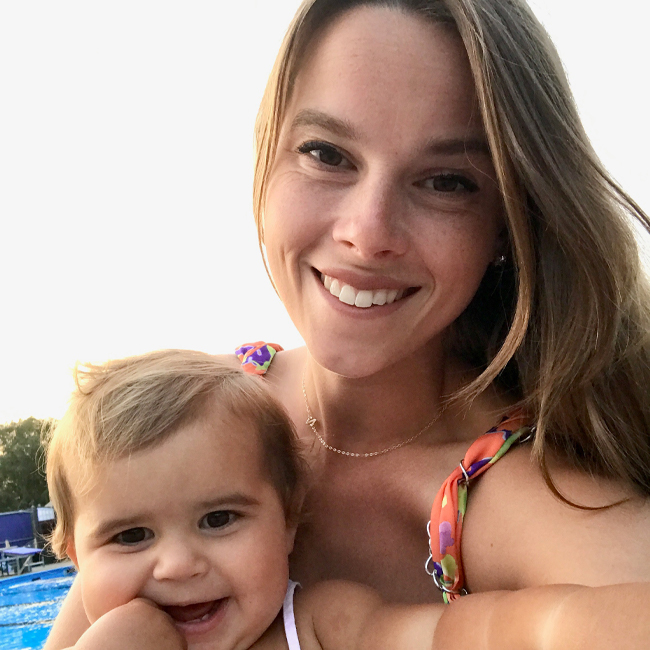 Kaylee, this will have definitely been one of my longest and most valuable posts to date! Thank you for all you're doing to keep our children safe around water, and guide us parents in the process. I know you've helped C and I create such a special bond in the water that I can't wait to grow and nourish!