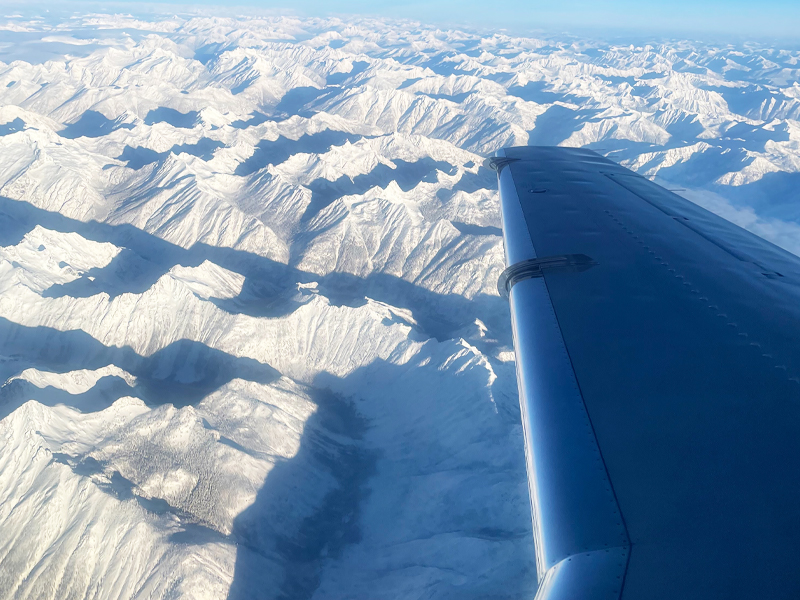 Often you hear people talk in amazement when they hear about someone travelling with a young baby, but I think parents of young children can attest, those baby months are the easiest times to travel. Not easy like "travelling-alone, taking a nap, doing whatever you want on the plane" easy, but more like "as long as I snuggle & feed my little baby, they should be content on the plane" easy. Once little ones get to the age where they are wandering around on their own, they by no means want to be confined to your lap, or a seat, for hours upon hours. After travelling many times with my little one, even during Covid (which is a whole other kind of travel), and experiencing it solo versus with people, experiencing carry-on versus checking, experiencing infant-in-arms versus getting an extra seat, and experiencing packing a stroller versus packing a carrier, I have some tips…or at least a break down that you can pick and choose from.
Infant in Arms or Extra Seat?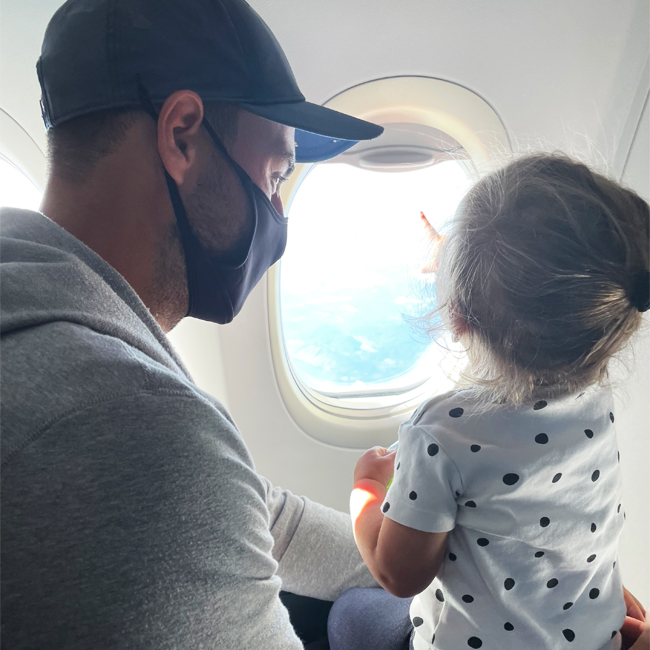 I am all for the "children under age 2 are free" policy, and I was planning on taking full advantage of it, but there have been times where I've either regretted not having the extra seat, or found the extra seat super necessary. Here's my thoughts: if you're travelling alone with your little and you have the means to buy an extra seat, it is well worth it. For one, the extra space allows you to simply dump things you need during the flight, and for two, you can avoid getting too cozy with the person beside you (by that I mean making sure your kiddo doesn't accidentally kick them a million times). If you're travelling with another adult, the infant-in-lap option may be okay, as they can jump from one adult to the other. The other thing to keep in mind is the duration of flight. For a 2-hour flight, I've found C in my lap very do-able, but for a 5-hour flight, we definitely enjoyed having separate seats to at least have snacks and spread out a little here and there! Also, seeing as my 1.5-year-old is the size of a 3-year-old, it got to the point where the second seat really just made sense. If you talk to a car seat safety consultant, I'm sure they would suggest having your child in their own seat (as well as using a car seat on the plane), but we never went that route. On that topic…
Car Seat – Check or Gate Check?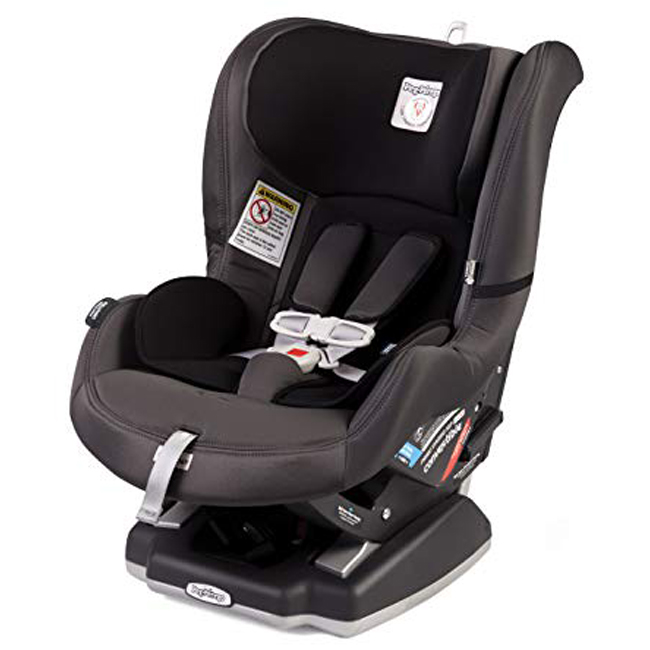 I have seen too many bad things happen to my friends' car seats at airports, in terms of being damaged or lost. The one time I did check a car seat, it was damaged. And although you can get reimbursement, it still is an extra process and an arrival headache, so I've now vowed to always gate check my car seat. The challenge is having to carry your car seat through the entire airport until flight time, but for me, it's worth it. Once you are through security, you can get a gate check tag (I suggest having your car seat in a bag) from someone working at your gate, so once boarding comes, you are already set! Then, once you board, you drop off the car seat (and stroller if you have one…more on that next) right before you get on the plane. You'll find it in that same spot once you disembark!
Stroller or Carrier?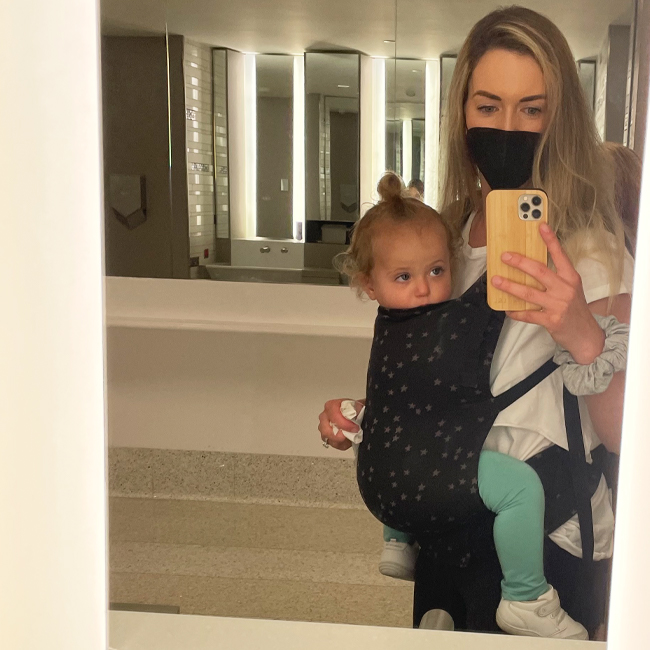 Okay, in truth, I'm team just carrier at the airport, if I had to choose just one. My reasons: Baby/toddler is close up against you and happy, you can often go through security with them still strapped onto you, you don't have to spend time looking for elevators so you can dash anywhere super quick, and it's less to lug around, plus your baby/kiddo can take a nap on you when needed. That being said, if you need a stroller at your destination, you'll have to bring it. When I've been travelling solo, I've seen some benefit in having the stroller, so I could stash all my other stuff in the bottom of the stroller. And of course, the stroller is a great place to nap too! Just give yourself more time, because throughout the airport you will often be waiting for/finding elevators, since you won't be able to do the stairs or take the escalator. Even with a stroller, I've always still packed the carrier – it's key if kiddo has gotten overstimulated, or if it's been a long day of travel/waiting/lines. [I love my Tula Free to Grow or Tula Toddler carriers, and you can use LAURENEB5 for 5% off all things Tula, if you wish!] With the stroller, you'll do the same thing I mentioned above – once at your gate, prior to boarding, ask the desk for a gate check tag!
Airport Entertainment
There are some cases where you may be dashing to your plane and only have enough time for a quick pee break (if you have little ones out of diapers, offering a toilet break before boarding is very important)! But other times, you'll have a long time to wait. So here's what we've done for airport entertainment.
Check Out All the People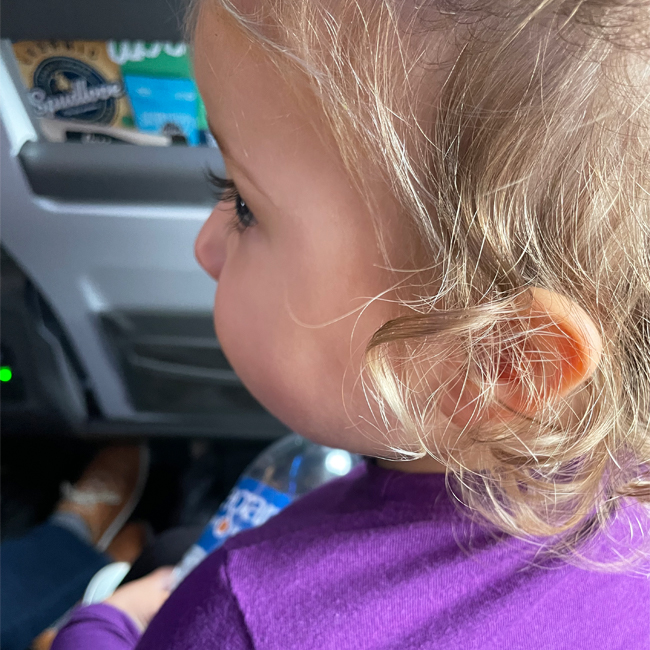 People watching…is there anything better at any age? Endless entertainment, really. And at the airport, you can spot the planes coming in and taking off. You can see people running to their planes. You can check out the water fountains, and suitcases, and people people people.
Get Some Food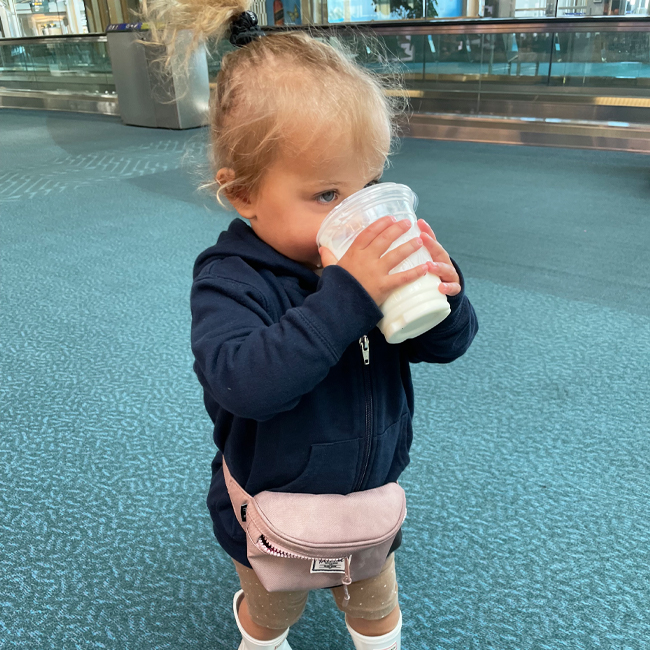 Packing snacks for kids is key always!! But it can be tricky if you're flying internationally to know what you can and can't pack – usually the rule of thumb is no fruits and veggies across borders. So, unless I'm travelling domestically, I've stuck to pretty basic snacks – granola bars and crackers. And then I've ordered some food at the airport. That's entertainment enough for a kiddo – to get the food and then eat it while you're waiting!
[Afterword: Some of you mentioned that any food or drink for young children under 2-years-old is allowed through security. Which is supposed to be true, however, if it is allowed through, it will require testing at security, so give yourself lots of extra time. And then, in many circumstances, I heard from you that even formula and pouches were removed from you at security (formula and breastmilk should always be allowed, as it is a necessity), but just something to take note, and for your to evaluate how and what route you want to take in the food department!].
Find a Kid's Play Area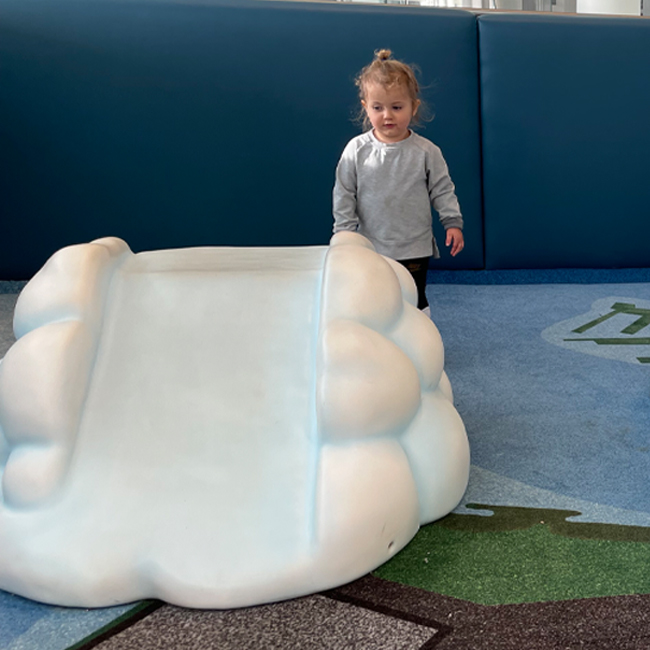 Most airports should have a kid's play area, or two or three, close by your gate. That's a great spot to burn some energy and stretch the legs before take off.
Plane Entertainment
It's boarding time! So far I've lived by the policy that I try and push off even pulling out toys as long as I can, so that when they do come out (and then one at a time), they are exciting! We start by simply watching – the people coming on the plane, everyone stowing their luggage, what we can see outside the plane window! Then once it's time to pull out the toys, I pull out one, we play with it for as long as we can, before pulling out something else new and exciting. Here's what we usually pack on the plane (the amount and the types have changed depending on age of my kiddo at the time and duration of flight).
Snacks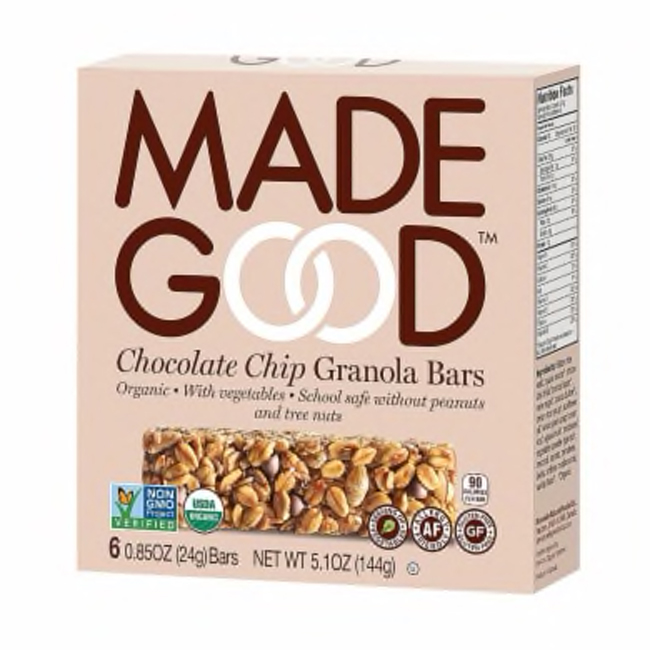 Again, you always need snacks!
Books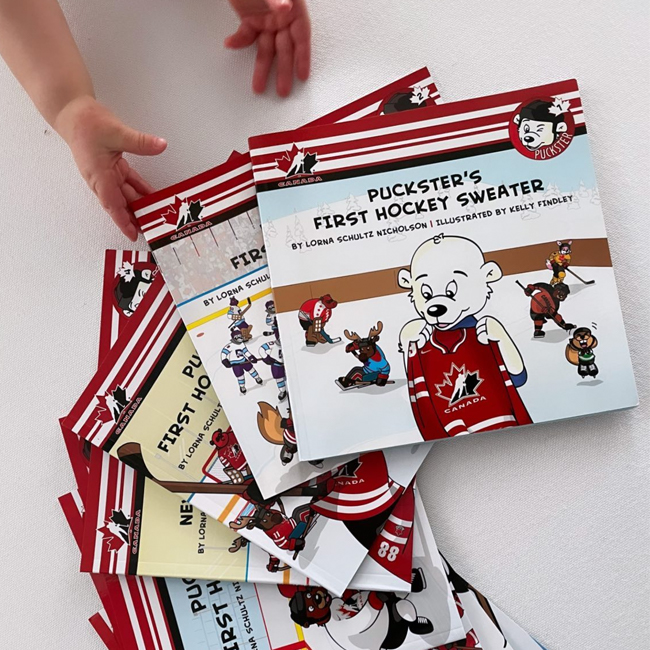 If your kiddo has a favourite book or two that they can read over and over and over again, now is the time to pack that! I've always liked packing smaller board books, or thin soft cover books, so they are easy to fit into my carry-on.
Colouring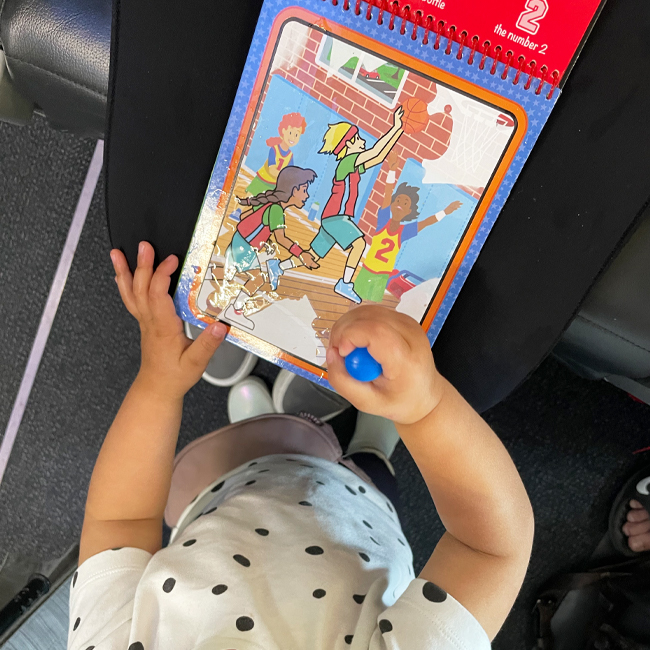 There are some great colouring options that don't make too much of a mess either. There are water brush colouring books. There are magic colouring books. And there are mini crayon travel packs! Or, if you have a mini magnetic doodle board, those work great too! Another idea is reusable sticker books. You can always pack options!
Squigz & Post-It Notes/Painter's Tape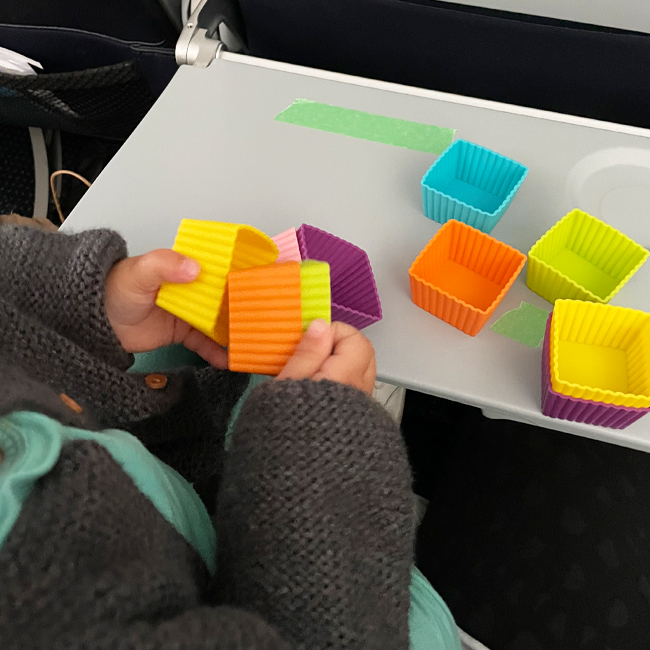 Squigz are a fun toy to play with always – we love them at home and in the bath too. They attach to everything, including themselves, so, you can attach them to the plane tray table, or just build a little squigz-puzzle. You don't need to pack too many of them to have fun. When my daughter was younger, I also packed post-it notes and painter's tape, and cut them into strips – she would remove them and reattach them to the tray table…I know, super exciting, but really, it works!
PomPoms & Small Wooden Puzzles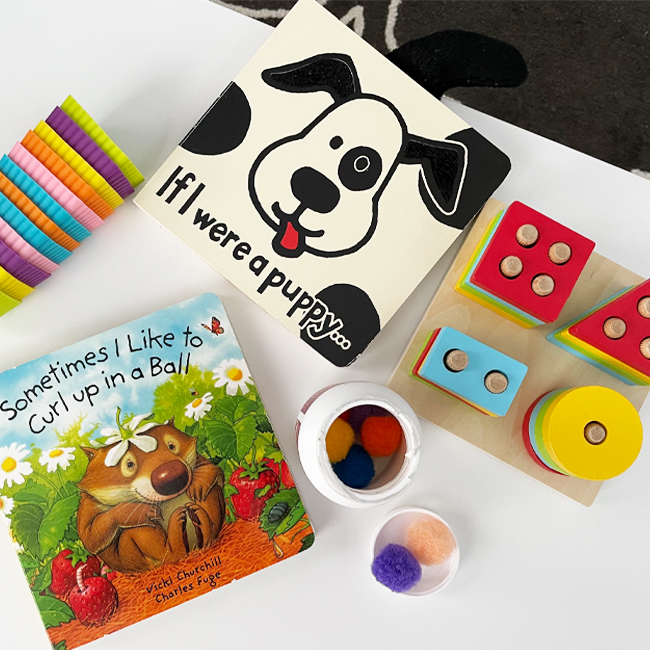 You guys know we love our pompoms over here. You can pack any sort of small box or container with an opening, and pull the pompoms out and put them back in, again and again. Small Wooden Puzzles are great too!
Play Dough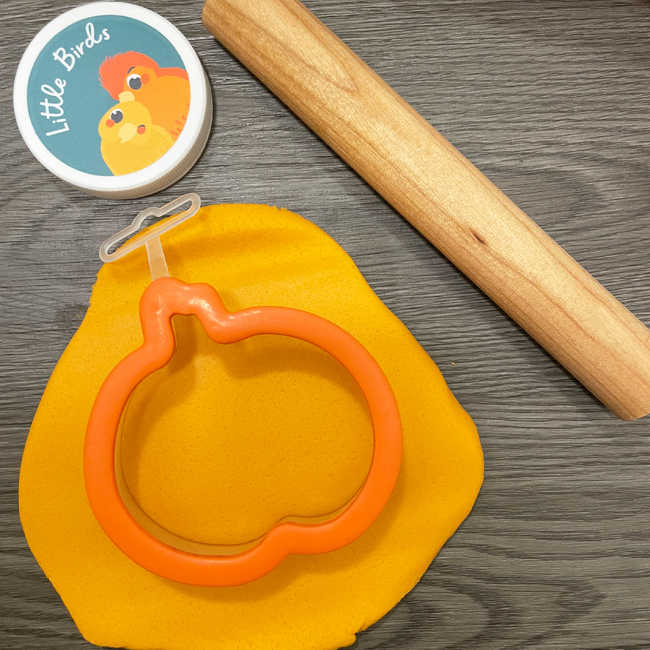 If your kid is already an expert in play dough and it won't be a crazy airplane mess, this is one we love!
Pop It!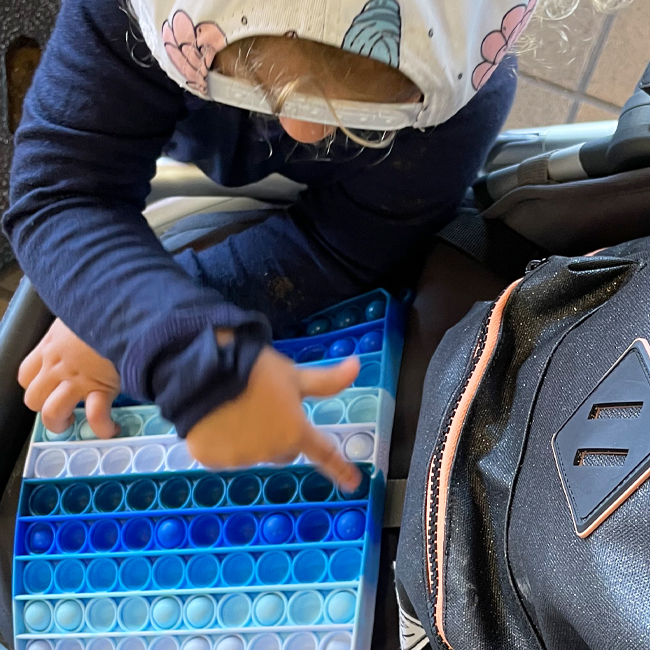 I don't know how many times I was told about the Pop It, before I finally caved and got one. And wow…one day, I swear C played with this for 9 hours of our 16-hour travel day!! No regrets from this purchase!
Naps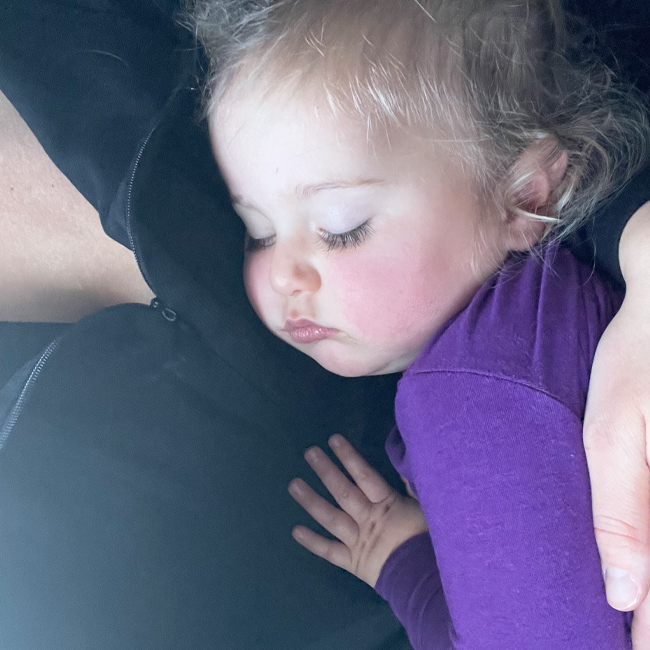 And then, what a gift is it when the plane just lulls your little one to sleep? Everyone arrives at the destination well-rested, and happy as clams!
Videos
We don't normally do screen time or have iPads over here yet, but I know for some, they are helpful on the plane, so something to consider! As a last resort on long travel days, I've pulled out my phone for C to watch some videos of herself, or of course, to play some Raffi songs.
I hope this was helpful for you to give you some ideas for your next travel day with kiddos. It's a lot for a little one, even when everything goes smoothly, but having some options prepped, and keeping a calm, positive attitude, will hopefully make the travel day an adventure!
Happy Travels!