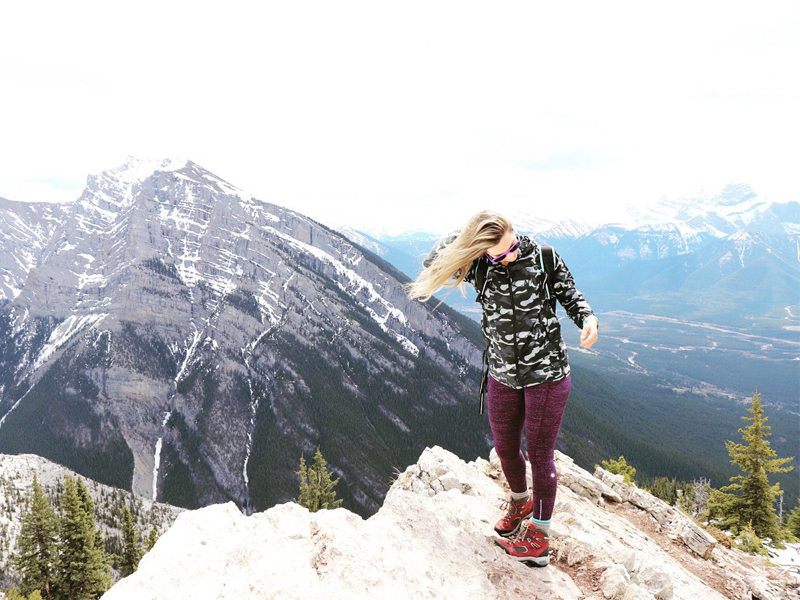 When you decide you're going to start venturing into the world of hiking, one of the first thoughts that crosses your mind is, what do I need?! And when you make your way into MEC, or Camper's Village, or where ever you choose to purchase your gear, it's not only overwhelming, but also tempting to choose everything in sight.
Although I am by no means an expert in hiking gear, and doing your own research, and talking to the experts [at those stores] will be your best bet, I thought I'd share with you my personal go-to items. Take note, my now favourite hiking items were discovered by bombarding my expert hiking friends with loads of questions (I'm over here raising my hand as a hiking brand copycat!).
First things first, don't go crazy right off the bat. As you start adventuring, you'll decide what is most important to YOU and what kind of materials you need for the type of adventuring you choose to do.

Gear For "Easy" + All Hikes
With the assumption that you'll be starting with relatively "Easy" hikes, my advice would be to start with these items:
#1: Shoes: Have good, supportive shoes! A pair of good runners should do the trick. Not all hikes require hiking boots, especially if you're just walking easy trails.
#2: Clothes: Have what you'll need for the weather that you may encounter on a hike, as temperatures can change drastically – ie. Rain jacket, warmer jacket, even a toque and mitts! Packing a spare pare of socks is also a good idea.
#3: Backpack: Have some sort of backpack that is filled with your food and water! (see my backpack picks below!)

Must-Have Hiking Gear
As time goes on, and you start adventuring more and for longer, you may want to invest in gear that is specific to hiking. Here is the gear that I think is worth investing in to make the most of your hiking! (click the < > arrows to scroll side to side + click to shop!)
#1: Hiking Boots
Now this will be based on personal preference, from height of the boot, to shape, to colour. So, go in and try some on. Merrell is a great brand, but try them on!!
[show_shopthepost_widget id="3245122″]
#2: Hiking Backpack
It's crazy what a difference a real hiking backpack can make – it truly feels like you have nothing on your back and it's extremely supportive on your body. I just invested in an Osprey backpack, and I love it! The amount of litres (size) you want will depend on what length of hikes you'll be doing.
[show_shopthepost_widget id="3245125″]
#3: Hydration System
This is another item that once you have it, you don't look back! It makes such a difference to have water accessible at all times, versus having to constantly pull a water bottle out of your backpack (which can be challenging on some hikes), and it allows you to carry much more water. I love my Platypus 3L Hydration System.
[show_shopthepost_widget id="3245129″]
#4: Waterproof Gear
From a cover for your backpack, to a dry sack for your phone and other important items, keep your goodies dry!
[show_shopthepost_widget id="3245131″]
#5: Food Containers
Lightweight, reusable containers for all your food is a must when you'll be carrying your food with you all the way to the summit and beyond!
[show_shopthepost_widget id="3245133″]
#6: Emergency Kit
You can make your own or buy a pre-made one. Some of these options are in waterproof cases, which is a great idea. If not, a ziplok bag should do the trick! I recommend packing regular first aid items as well as blister cushions, just in case!
[show_shopthepost_widget id="3245134″]
#7: Light
A headlamp, a flashlight, or your favourite source of light, may be important if you start to do sunrise/sunset hikes, or plan on adventuring out more in the dark.
[show_shopthepost_widget id="3245135″]
I'm sure my list will continue to grow, along with my adventures. I hope that what I've discovered thus far is of some use to you. Enjoy shopping for your next hike!