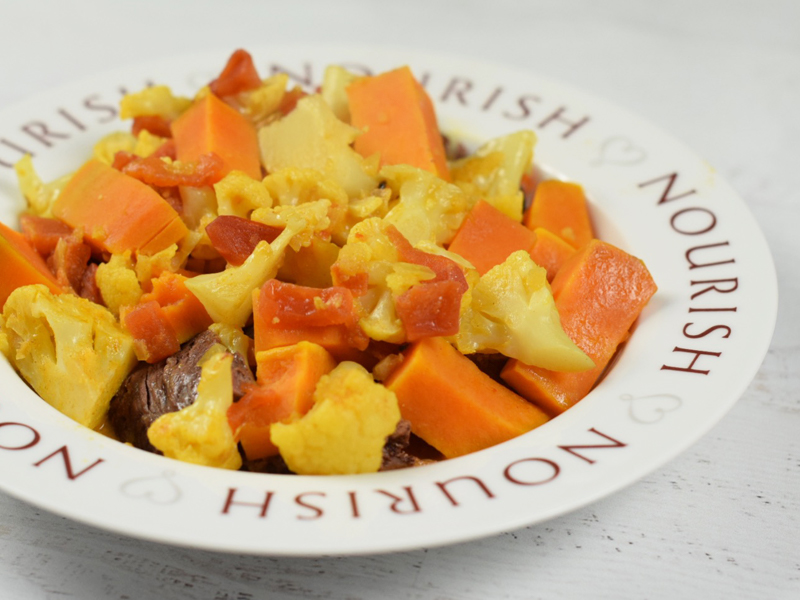 Y'all know me…I don't measure anything, until I have to in order to give you a real recipe. So here is Coconut Curry, but don't feel like you need to stay strict to these measurements – toss in more of this, less of that, whatever your chef soul is telling you!

Coconut Curry
Serves: 4-6 servings.
Ingredients
1 sweet potato, chopped
1 head cauliflower, chopped
1 small onion, chopped
1 tsp. ginger, grated
1 tbsp. coconut oil
1 tsp. garlic powder
1 tsp. turmeric
1 tsp. cumin
1 tsp. cinnamon
15 oz. can diced tomatoes, drained
15 oz. can coconut milk
1 cup chicken stock
Directions
Peel and chop one sweet potato. Wash and chop one head of cauliflower. Chop small onion. Grate about a tsp. of ginger.
In a food processor, add chopped onion, grated ginger, garlic powder, turmeric, cumin, and cinnamon.
In a large pot, melt coconut oil on medium heat, and then combine with the food processor mix.
Add cauliflower, sweet potato, drained diced tomatoes, coconut milk, and chicken stock to the large pot. Mix together, cover, and let cook on medium heat for about 20 minutes.
Eat just like that, or top over rice or quinoa. I serve over beef bites, and I really love having naan bread to scoop up the excess sauce after!
Tip: You can replace the chicken stock with a vegetable stock if you want this to be a vegetarian dish.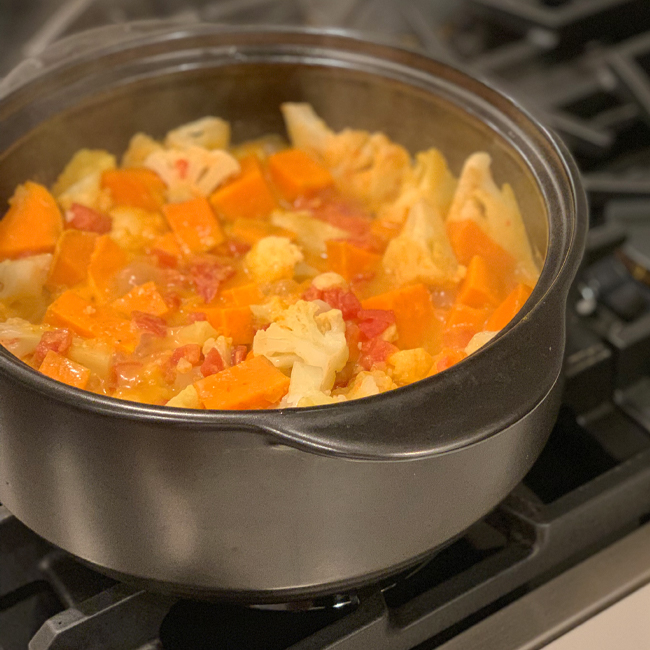 Hope this meal warms your souls and your bellies!