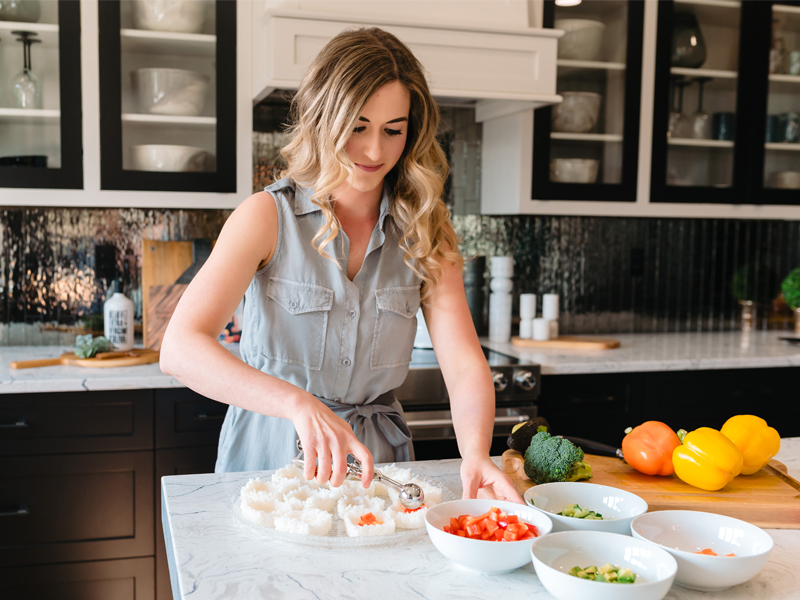 Having to condense this list was not an easy task…my favourite cookware is everything I have in my kitchen. I love cooking, I love baking, and I love all my cookware that goes with it. But I tried to limit it to the things I use most regularly (pretty much legitimately on the daily), so here it goes…
Brownie Pan & Mini Nylon Serving Spatula
It probably comes as no surprise to you, that the Brownie Pan is my favourite piece of cookware there is. If that wasn't obvious enough from following me, it should be obvious by my cookbooks that were written specifically for it. The Brownie Pan is great for food prep, portion control, parties, and just having perfectly shaped food!! The Mini Nylon Serving Spatula is a must with the pan, to remove the food with ease and without scratching the pan.
Tip: Don't use PAM on the pan, hand wash only, and do as all people should…fall in love with square!
I love to use the Chef's Basting Brush for easily adding oil to all the wells of the pan. And if you need ideas for what to make in the Brownie Pan, you can check out my Brownie Pan Every Damn Day Cookbooks!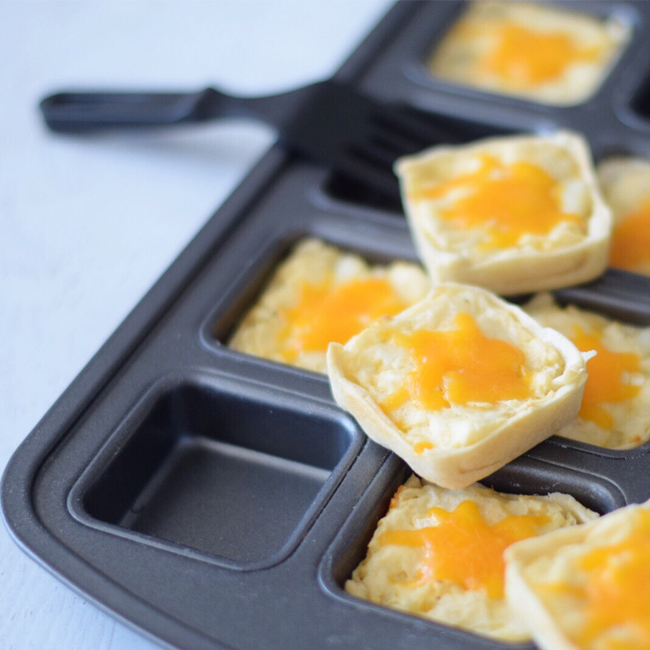 Scoops
These scoops (small, medium, large) are perfect alongside the brownie pan, to easily measure and fill the wells without any extra mess. They are also great for cookies, other measurements, and making a serving of anything (like mashed potatoes) look oh-so-pretty. The scoops equal 1 tbsp., 2 tbsp, and 3 tbsp. respectively.
Large Cool & Serve Tray and Insert
The Large Cool & Serve Tray is a staple in my house as well. I always have a veggie tray on the go, because clean, chopped veggies makes a healthy, accessible snack that actually gets eaten! It has a lid, so veggies last a long time in it, and if you're having a party, picnic, or going on a road trip, there are freezer inserts to add to the base. The tray comes with a good insert, but there is another additional insert that is nice for variety and for different types of serving.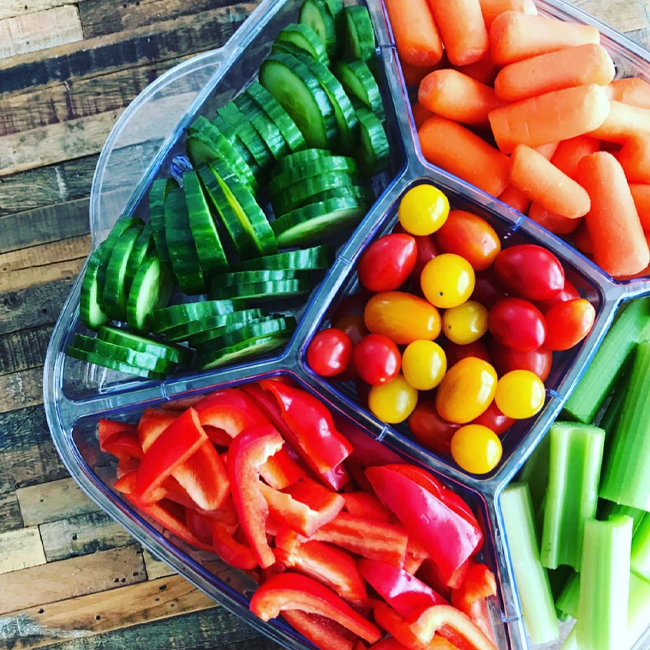 Silicone Baking Mat
The silicone baking mat is nice on the environment, and in the end, nice on your wallet, as you won't need to buy parchment paper any longer. This reversible mat is easy to use and easy to clean, and helps mark the spot for perfect-sized cookies.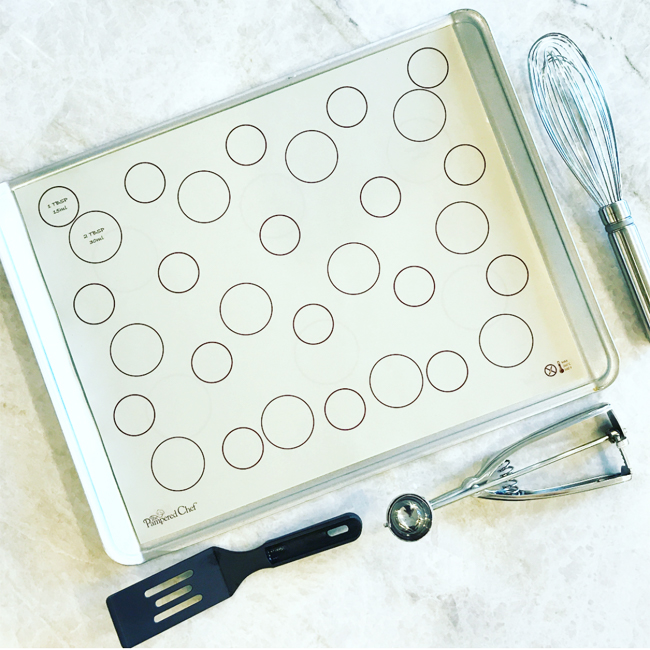 Stoneware
Stoneware takes a little extra love and care – by that, I mean you need to let it cool down and only wash it with hot water and no soap; it doesn't like thermal shock, so it can't go from hot to cold (don't pour water on it when it comes out of the oven, for example). But I will take that extra love any day, for all the extra flavour that stoneware gives. The more it's used, the darker and more "seasoned" it gets – meaning the better your food will keep tasting. I don't ever want to cook chicken any other way. It's great for roasted veggies, pizza, cookies, and pretty much everything – it cooks food to perfection without overcooking – it's just like pure magic.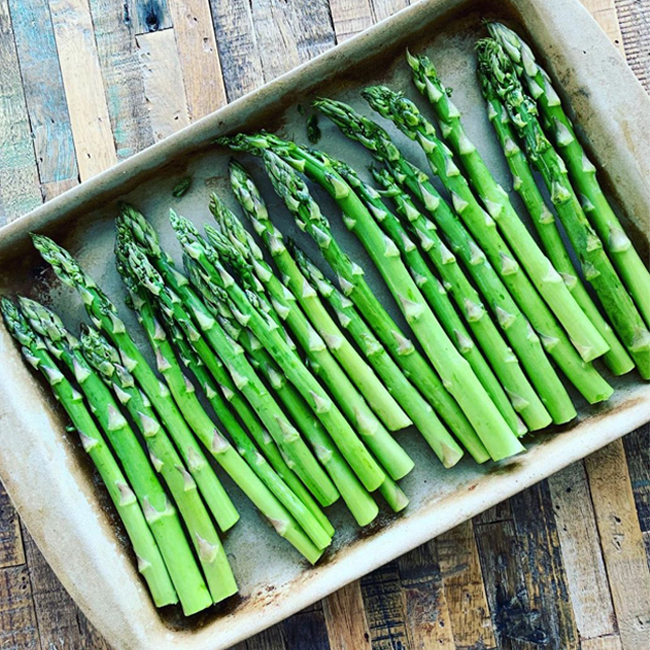 Mix 'N Chop
The Taco Tuesday Game Changer! The Mix 'N Chop seriously is the secret to ground meat that you didn't even know you were missing out on, and useful for so many other things. I love it for making burgers, mashing sweet potatoes, and mixing egg salad. Speaking of Taco Tuesday, I love to use the Tex-Mex Rub to up my taco game!!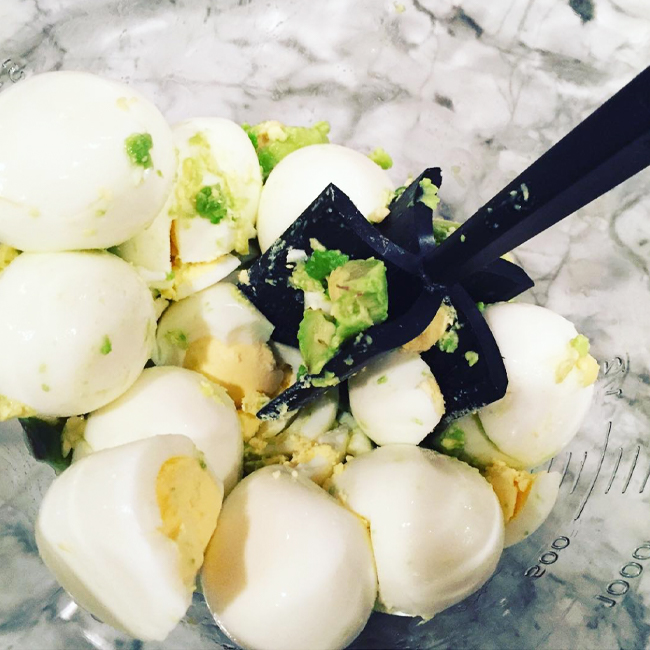 Glass Prep Bowls
These 1-Cup Prep Bowls are great for prepping, but more often than not, I use them for leftovers and for taking snacks on the go. They are perfect for measuring (with measurements on the side of the glass), the lids stay nice and tight, and they stack perfect in the fridge or together for easy storage.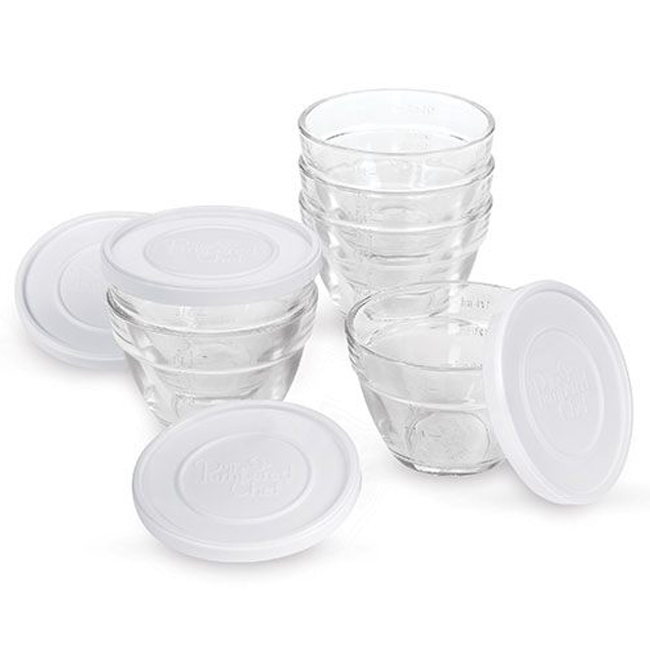 Glassware
These are my favourite at-home storage containers. They are leakproof glass containers that come in sizes for 3-Cups, 5 1/4-Cups, and 8 1/4-Cups. Because they are glass, the bases are great for reheating in the oven (up to 350 degrees Fahrenheit) or microwave! They are also freezer-safe.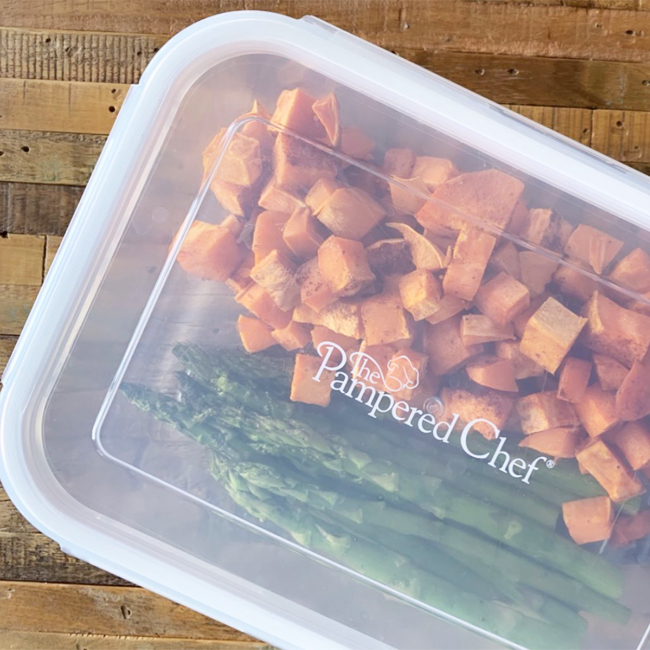 Grill Pan
I'm not one to use to the BBQ, and I don't know if I will ever learn, so the Grill Pan is my way to barbecue. If I'm making steak, or BBQ chicken, you'll find me using the grill pan. If I'm making panini's, you'll see me using the grill pan (plus the Grill Press). And the list of it's possibilities go on and on!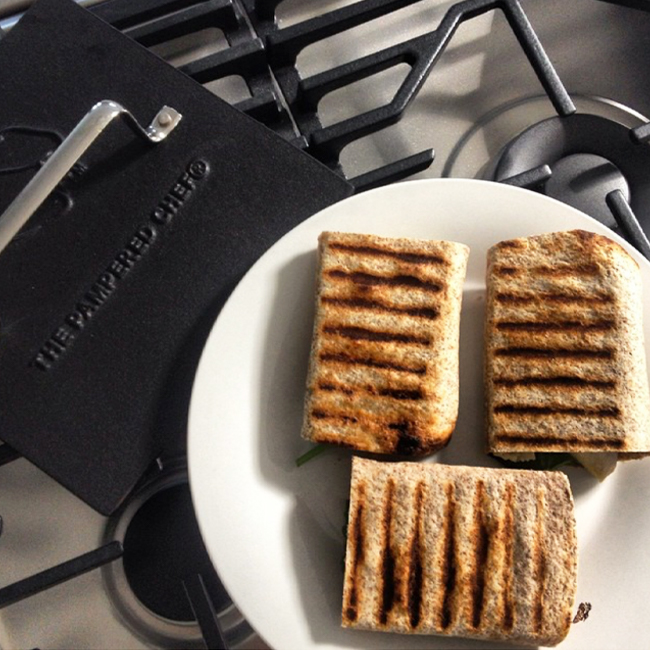 Stainless Steel Mixing Bowls
These Mixing Bowls have the measurements on the inside, they have a spot to hold the bowl sturdy while you mix, the base doesn't slide all over the counter, it has a spout for pouring, and the lids make it easy to store leftovers or bring to a party…is there anything not to love about these Stainless Steel Bowls?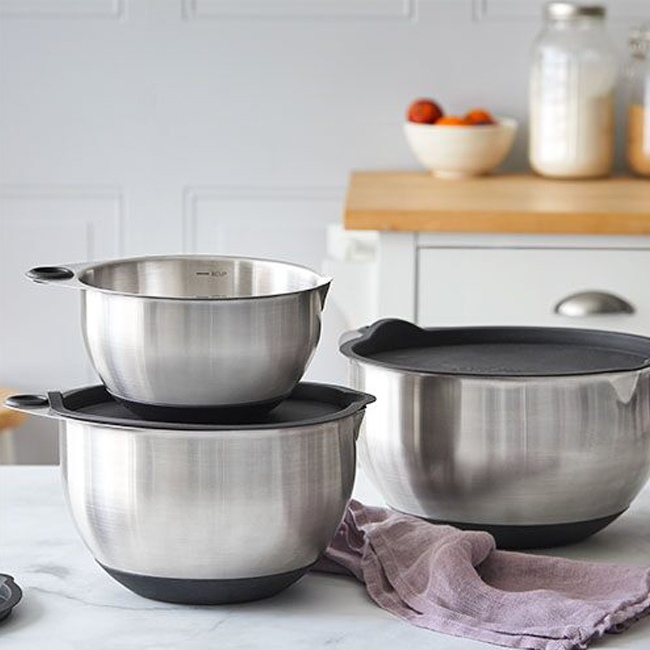 Citrus Press
If you've heard about my morning routine, I have lemon water every morning (let me tell you, I couldn't stomach it during my pregnancy for some reason, but I'm going to bring it back). The Citrus Press makes this so much easier to make, with one quick squeeze. Best part? You know there won't be any seeds in your drink afterward.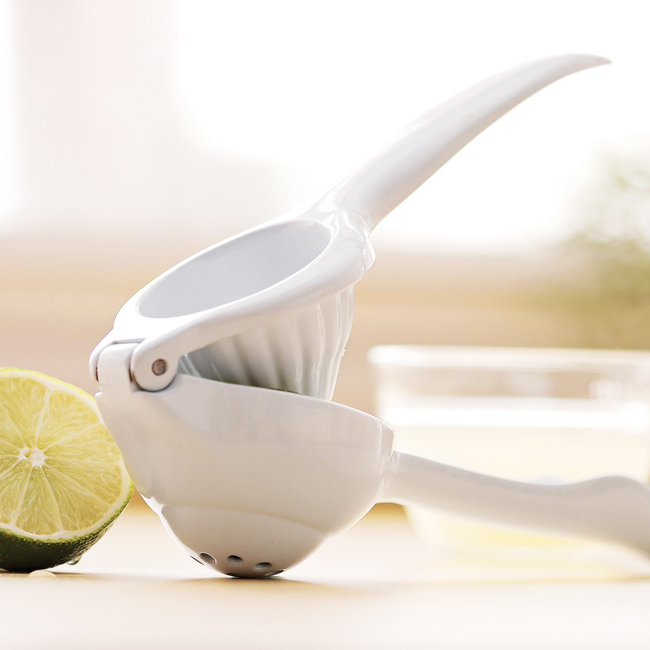 Cake Tester & Releaser
I got really excited about this Cake Tester, because it felt like a way to stop buying and throwing away tooth picks for testing loafs, muffins, cakes, etc. And, I do use it for that reason all the time, but then it became my favourite item for easily removing the frozen cubes I make in the Brownie Pan. Pampered Chef just released a Brownie Bite Pan (I'm more than a little excited for this!), and for this, I know I'm going to be using the small scoop for filling the pan, and the Cake Tester & Releaser for removing those cute, mini squares!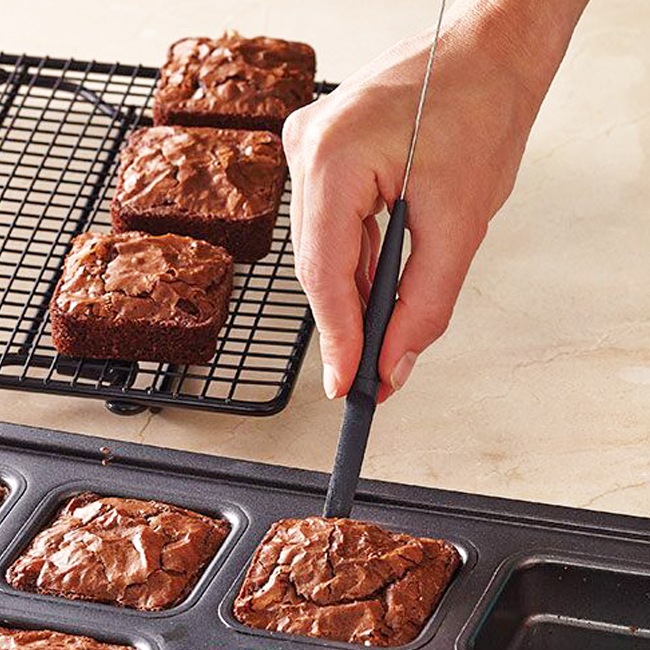 Happy Cooking! Happy Baking! And, of course, Happy Eating!!