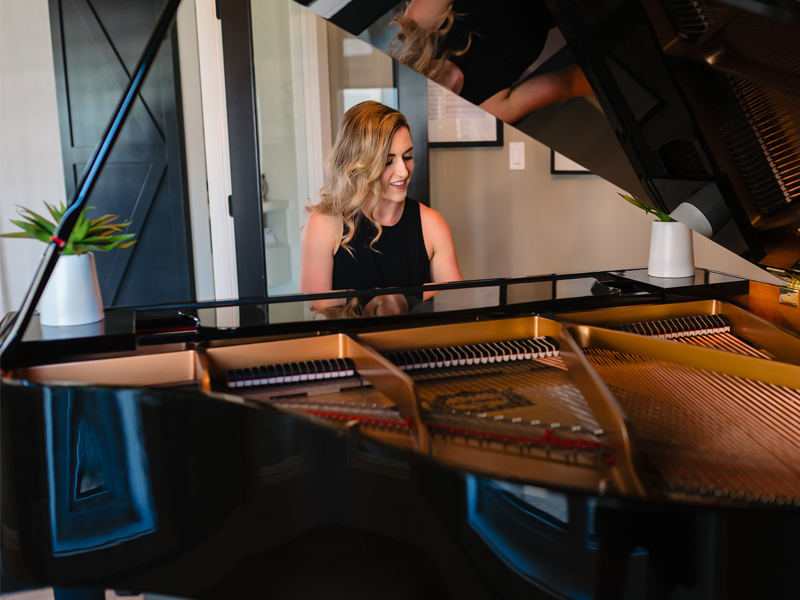 I sit here writing feeling like an imposter, not knowing if I should share this post at all. But, it's been requested…many times. So, I decided I will share my own journey to starting my own business "like a boss." This is my why, my how, my recipe, but it may look different for everyone. Especially if your current goal is to hire 100 employees…that's not what my recipe looked like. Maybe one day I will own a huge studio and hire a ton of teachers and train them all in my method, or maybe, I'll keep it as intimate as it is right now. Or, maybe, as I'm learning, my roles and dreams and career path will completely change altogether. So, let me begin with my why!
My Why
I always knew I wanted to be a teacher, and I always knew music was important to me. I would say that I was going to be a teacher or a singer when I "grew up." As I got more and more into music, many people (not my true cheer squad) told me music was not a realistic career path. They tried to brainwash me out of pursuing my dreams, or they tried to put a price tag on my dreams. "What are you going to do with music?" So, somewhere along the lines, in high school, I decided it was more practical for me to get an office job…I decided I could simply make music in my spare time.
For some people, keeping their passion as a hobby is enough, but the outliers in my life knew better. In Grade 12, I enrolled for early admittance to the University of Calgary and got accepted into the Communications & Culture program. I said I was going to work in Public Relations…that was my new 'game plan.'
When my high school choir teacher found this out, he pulled me into his office, sat me down, and asked me why I had made this decision. He told me I was doing a disservice to myself and others by not pursuing music. I cry typing that…that one conversation lead me to talk to my parents, to talk to my private voice instructor (a wonderful woman who really instilled the love of music in me), and to contact the University and make the switch into Music (can you believe that?! Teachers, you make a difference!). In case you're wondering, I kept Communications & Culture as a Minor (which allowed me to study Food & Culture in Spain on a study abroad, so ya…it was a good decision, haha!).
By my first year of University, I was studying music full-time, and I began working teaching music at two different music studios in Calgary. I taught singing and preschool music classes. Somewhere along the way, others started asking me to teach them piano out of their homes, so I became a travelling teacher too. By the time I graduated from University, I had heard, "What are you going to do with a music degree?" so many times, countless times, (still never, ever from my supportive parents). I fell back into that mindset that I needed to get a stable office job. But, you couldn't keep the arts out of me. The same month I graduated University, I started up full-time working downtown Calgary, at a professional theatre company, in the Communications and Development departments. I still love that theatre to this day, but while their hours were 9-5, I requested that I worked 7:30am-3:30pm, so that I could then start teaching everyday by 4:30pm and go until 9pm. Yup…you couldn't take the music out of me.
Over the year and a half I worked at the Theatre, I realized that I was always eager to go teach, even after a full day of work. I never once dreaded having to head to the studio. I wanted more of it, if anything. I had to come to terms with my why…my happy. I realized I needed to pursue this – I needed to start my own business!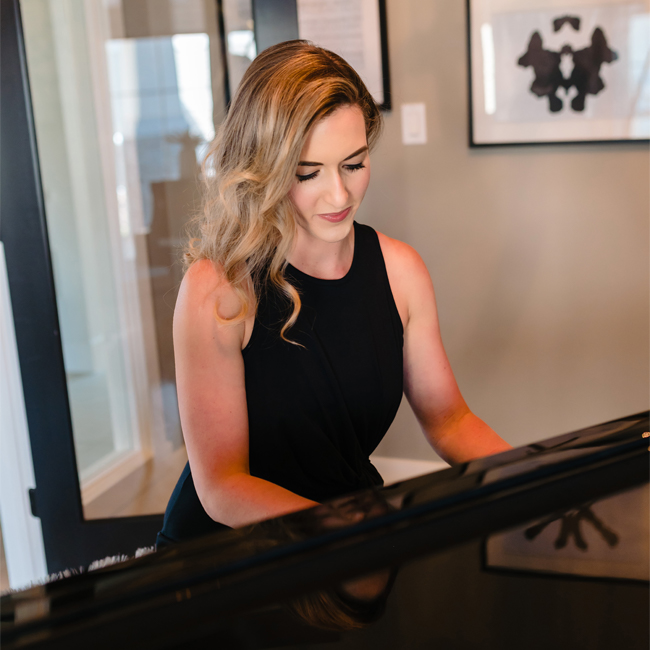 My How
I break my how into three parts:
Have a business plan
Start your business on the side, while you have your other job/stability (if you can)
When you're ready to go full-time, give it everything you have!
First thing I did was sit down and work out a business plan (thank you, University-training and Google). I worked out every detail and all the finances. I figured out how many clients I would need to make what I was currently making working multiple jobs (not that I would let my Shoppers Drug Mart gig go very quickly!), and what expenses would go into the business. Finally, when I had it fully together, I sat my parents down and got them to take a look at it. On top of that, I said, "I'd like to open this business out of your house." They didn't bat an eye…they asked when I wanted to start. There's another reason I feel like an imposter writing this to you – while I did have to go out and get all the permits and a business license, I had a beautiful piano and space ready for me! I didn't need to go out and acquire loans to buy a piano or lock down office space. But, as I said at the beginning, this was my recipe, and I fully acknowledge the privilege I had in not having to worry about keeping the lights on or getting food on the table, if some payments didn't come in! So, my wonderful parents, let me open up my studio in their house, and have people come through at all hours of the day, and night, and weekends…they had preschools…they had their washroom heavily used…and for all of that, I am so grateful.

But, to back up, I started really pursuing this "on the side" before taking it full-time. I was already working at two studios and travelling to teach others. I talked to everyone I knew about it. Before September hit, I already had paying clients, rental space for recitals, and commitment from others, so I knew I could make this work. I think for many people, starting as a side hustle is the way to go. Within a year, my wonderfully supportive husband and I built a studio into our house in Edmonton, so the creation and growth of that evolved. Now I was a travelling teacher in a different way – between Edmonton and Calgary studios. So, my number 3 piece of advice is, when I was ready to go full-time, I gave it my all. They say being an entrepreneur is great, because you get to choose which 18 hours a day you work. But, it's true. At the beginning, you truly take what you can get. Back then I remember sometimes working 3 split shifts in a day, because you didn't turn down a client! Once you're more established, you can be pickier as you see fit, and as you need to be!
Since then, my business has shifted again, as we moved to New York, and then Seattle, as we had a child within a pandemic…while Calgary is my office home-base, I have a full studio teaching students all over Canada via Skype/FaceTime, and now have music eCourses that people can do at their own pace. Thank you, technology. And then of course, I've evolved beyond music, into food and exploring! I never dreamed that this was the direction my business would go, and I can't wait to see where it goes next. So, for all of you out there dreaming, make a plan, start it on the side, and then give it your all, and be open to seeing how your business will change along the way!!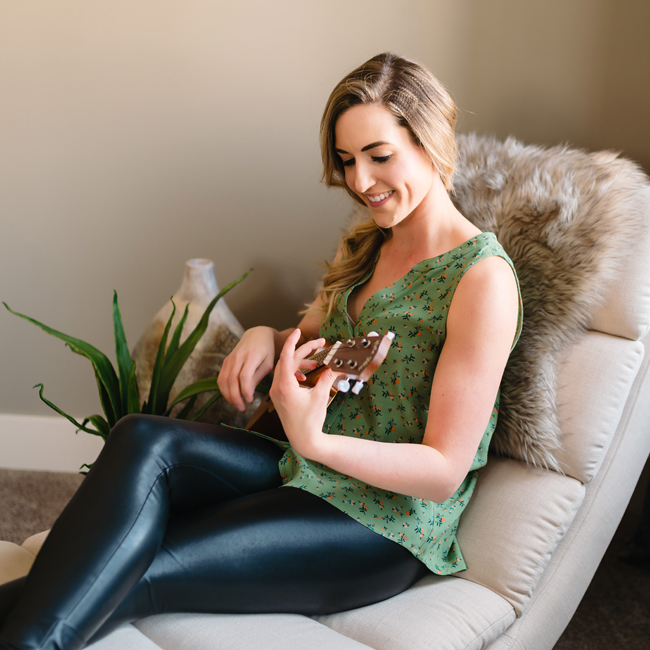 Happy Working, all you Bosses!