I'm going to start this birth story with the same disclaimer I did my first birth story…
Disclaimer: This is my story as I lived it. Everyone's story is different. Everyone's perspective is different. I am sharing this because others have asked, but I request that you are respectful with your opinions and not read yourself into my narrative. Every birth is beautiful for what it is! Thank you.
As it turns out, my babies love to cook closer to 42 weeks, they like to be enticed out with all the natural methods, and they like to give me prodromal labour (which, I don't even know if that's the right definition for it, since my contractions for about a week or more before birth, do actually lead to dilation and effacement, and honestly, I'm here for the prep work, if it means I get these quick, beautiful births).
While C's birth was about 6 days of wondering if baby was coming and if contractions were going to pick up in intensity, this one was weeks of build up, but also very different!! Our baby boy, Deacon, decided to bless us earth side 10 days past his guess date, a day later than his older sister, and with much more enticement needed. Two days past my guess date, my sister-in-law (SIL)/doula flew into Seattle with her 5-year-old daughter (my mini doula) to hopefully be in town for the birth, but also to be my support system while my husband, Jordan, was out of town for work. She had intended to stay 6 days, and we hoped based on timing of my last birth, she would be here possibly for pre-birth, birth, and postpartum. The days went by, my husband returned home, and my SIL's return flights were drawing nearer, yet there was still no clearer sign that baby was coming soon. My incredible SIL extended her trip by 4 more days! Which also meant, our entire village back home helped support my brother and their other kids for extra days of 'baby watch!'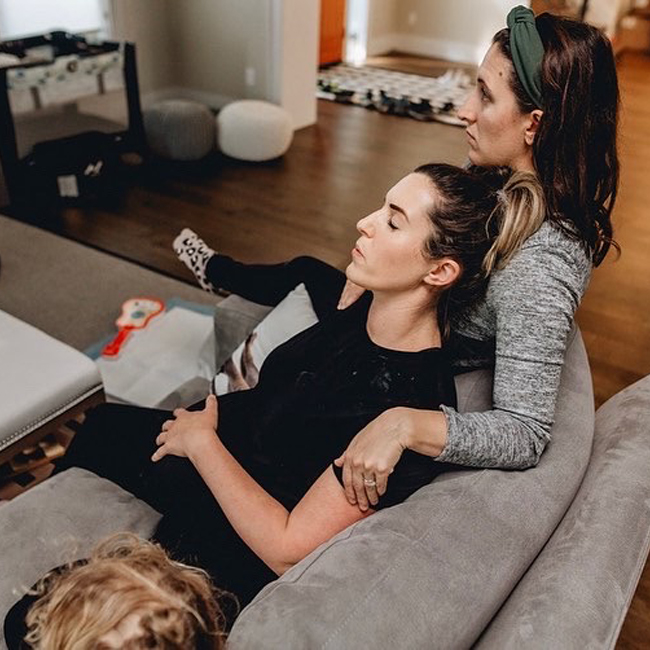 Although I've always liked to say that baby comes when baby is ready, and I've tried my best to trust the process and be patient with their timing, I was beginning to get anxious. Coming up on November meant my husband was out of town for another week, and with my SIL leaving, I started to worry that with my quick births, I would be birthing this baby alone before the midwives could arrive, and lacking support for my toddler who was to be in attendance of the birth. I just felt like time was ticking and I was losing my support team! It was probably that paired with the discomforts (even with all my gratitude for them) of late pregnancy, and all the hormones, that put me into tears. "Baby, please come out, we are so ready for you!" is what I kept saying.
With Collins birth, I was only checked once 6 days before giving birth to her, because with contractions starting, I was torn if I called my husband to come home from across the continent. At that time, I was 5cm dilated, 60% effaced, and baby was in a +1 position. I was hoping this time to not be checked at all, or for it to be minimal again, but turns out my feelings changed as time went on…
When I was checked well past my guess date with this pregnancy, things were very much happening, so I decided October 28th (10 days past my guess date) was the day to help nudge things along. It felt like baby was literally hanging out as low as could go and I was walking around with a bowling ball between my legs – baby felt ready to be earth side! Not that I wanted to choose baby's birthday, but October 28th meant I would get one day postpartum with my SIL, I would get two days for my husband to meet our baby, and I would have my birth team present!!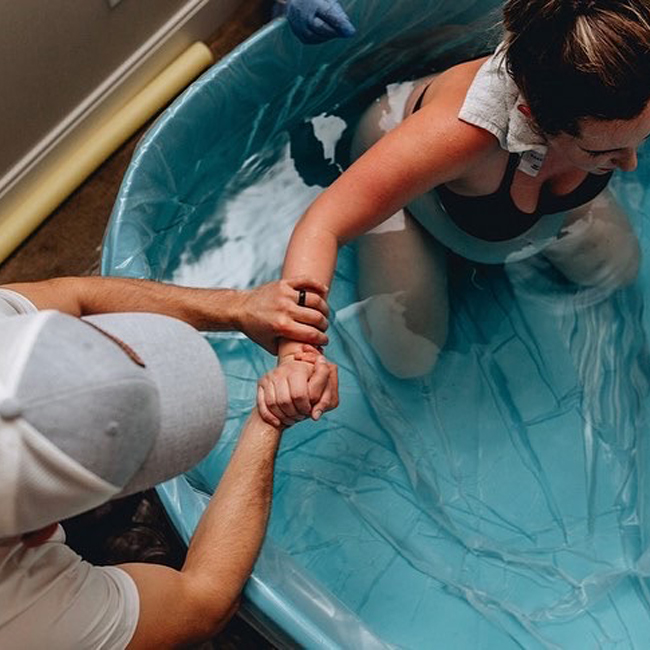 I talked it through with my midwife and decided to try taking castor oil in the morning. Turns out it didn't entice baby to come out, but it cleared my bowels (hey, too much information doesn't count when you're reading a birth story). So, next nudge to baby, I decided to go see the midwife for a cervical sweep at 10:30/11am. Beforehand, I asked her to check me – I was 5cm dilated, and as the midwife said, my cervix had melted away and she could feel baby's head. Clearly, baby was ready! Again, "come on baby."
The sweep seemed to help, because by lunch time, cramping and contractions were picking up. At 12:30pm, we started going for walks around the block in my very hilly neighbourhood – this is the time I deem as the start of 'true labour.' Once, at 2:40pm, when we were by my front door, my neighbour drove by and rolled down her window and said, "When are you gonna have that baby?" I said, "Today, I think." and she replied, "Bah, you said that 2 weeks ago (eye roll)." She then drove away. Oh how I wish she had stayed long enough to see my next contraction.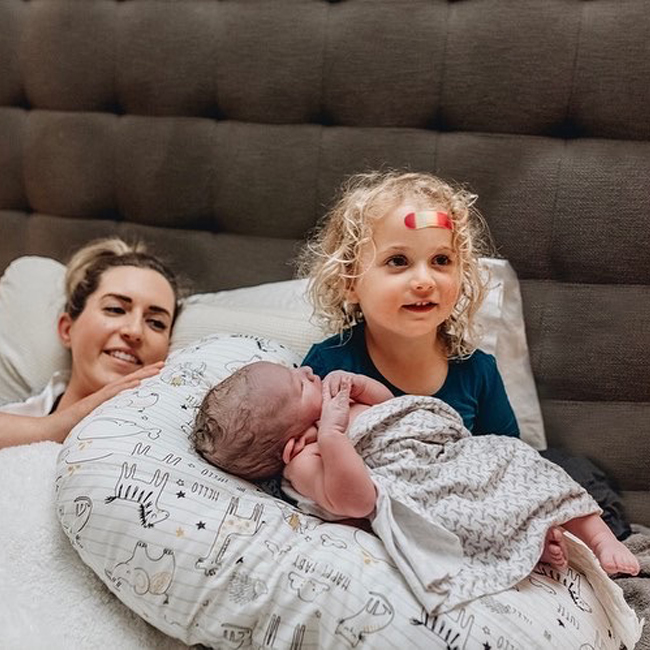 I should add, during this time, my husband got home from work, I had my SIL, my niece, and my daughter; All being my cheerleaders, my support, my counter pressure, my distractions. It was such a gift to have them all from the very beginning. Our walks around the block were broken up with labouring in the backyard – we couldn't of had a more beautiful day. For my daughter and niece, it was kind of an open door process – they could wander in and out where ever I was, join for the walks, break it up by going to have a snack/play a game/read a book.
At 3pm, I told my husband that if it was going to take an hour for the midwives and birth photographer to get here, I thought now was a good time to call. As everyone arrived, I was still labouring outside. We moved inside, visited, continued through contractions, and added some hot water to the birth tub. I felt things picking up and wanted to get in the birth tub, but was hesitant of getting in too early and it slowing things down. I wanted a definite indicator that I was at transition, like I had with C. So, I decided to get checked again…and turns out, I was still at 5cm. I know from all my research, and immense love for birth stories, that these numbers are not always the best indicator of things, but for this birth, it did feel right for me to use that as a little bit of a gauge. I was in shock that my dilation hadn't "progressed" further than that. So, we headed out for another walk around the block. By this time, I asked Jordan to order dinner for everyone. My midwife suggested that although I was loving everyone being together, maybe some time alone, or with just Jordan and C, in a dark room, would help me zone in. We did that, and had a delicious pasta dinner in our bedroom in between contractions.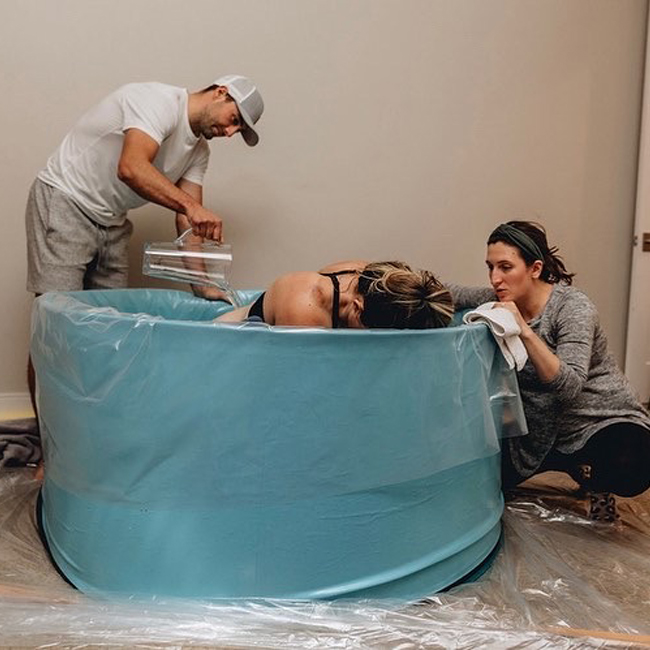 By 6pm, contractions were feeling so much more intense that I thought it was definitely time to get in the tub, but I wanted one more check…and believe it or not, I was still at 5cm. "Okay," I said, "let's talk through breaking my water." Something I didn't think I'd ever say. My midwife said she would never do this for a first time mom. I talked through all of my concerns with her and went over the risks/benefits, etc. I asked her about everything from cord prolapse, meconium, stress on baby, to intensity of labour, and I came to the decision that breaking my water was the right choice. My waters were broken at 6:20pm, and at 6:45pm our little guy was born. So, within 25 minutes, I went form 5cm, all the way to 10cm, pushing, and baby in our arms! But, let me go back.
My water breaking was one of the most intense feelings, and that intensity continued for the next 25 minutes. This 25 minutes is what made this birth feel so much harder than my first birth. It was all so much, so quickly! I know I've used the word intense excessively throughout this story, and it's because there is no better word to describe it. It was all so, intense!! Almost instantly, I hopped in the birth tub. It gave me an instant sense of relief, but it was short-lived, because then things really got going. I was very vocal within this time; Lots of low, loud sounds, and talking to baby…or begging baby, rather, to come out! At one time I said, "I feel like I can't do this," which I later learned freaked my husband out, because he said he'd never heard me say those words before. In contrast, my SIL took that moment as a sign I was already at transition! I followed up that sentence with a deep, "I can do this! I can do this! Come out, please, baby!!" Reliving this birth as I type, looking back at pictures, and thinking of the things I did and said, brings me to tears – because it is just incredible, isn't it? What we are built to do…what we are able to do…what our babies help us do!! It's truly indescribable. How do you ever begin to describe what giving birth feels like?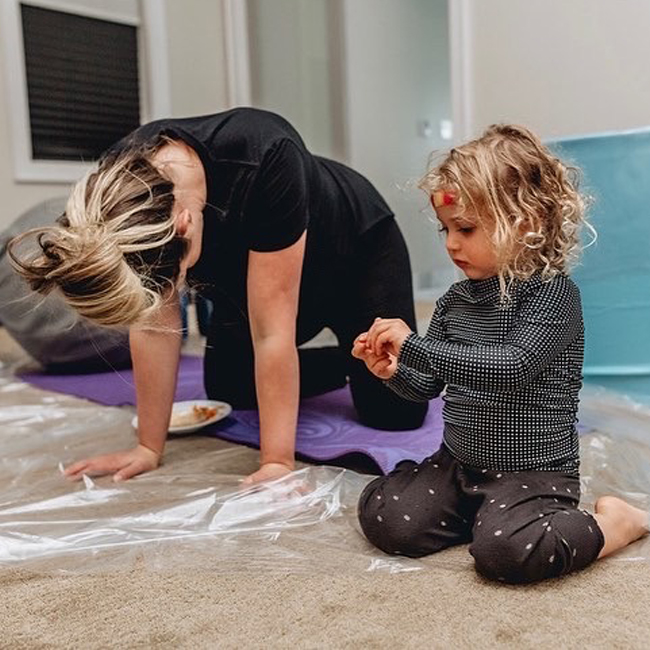 Once I birthed baby's head in the water, the next two contractions went by without baby's body being born. My midwife said she wasn't concerned, but it was best I got out of the water so she could see better (was there a cervical lip? were baby's shoulders 'stuck'?). Getting out of the water with a baby's head literally out of me seemed like asking the impossible, but with my team, I did it. I climbed onto the bed on all fours and instantly birthed baby's body. Turns out, all I needed was a change of position. It was so nice to then just lie on the bed, with my husband, my daughter, and our new baby all beside me. All of us in awe of what just happened.
We found out it was a boy! We did delayed cord clamping – it was beautiful to feel the cord pulsing and see it turn white. Jordan and Collins cut the cord at 7:01pm. I birthed the placenta on the bed. And the rest of the time continued with baby cuddles, breastfeeding, snacks and tea, talking through the birth, having baby checked, oh! and being kept warm, as I always get the most wild shivers after birth.
Collins was by our side for most of the day, but 100% of the time from my waters breaking to bedtime, and I do believe that has played a role in how obsessed she is with her brother (and how tired she is, haha). She really feels like she was part of the process, and is asking me to birth another baby ASAP…tomorrow, if possible. So, here we are now, a family of four, navigating the changes, and soaking up every single second of it, because as we know, it all goes by much too quickly.
Thanks for sharing in the beauty that is this new life, and celebrating alongside us.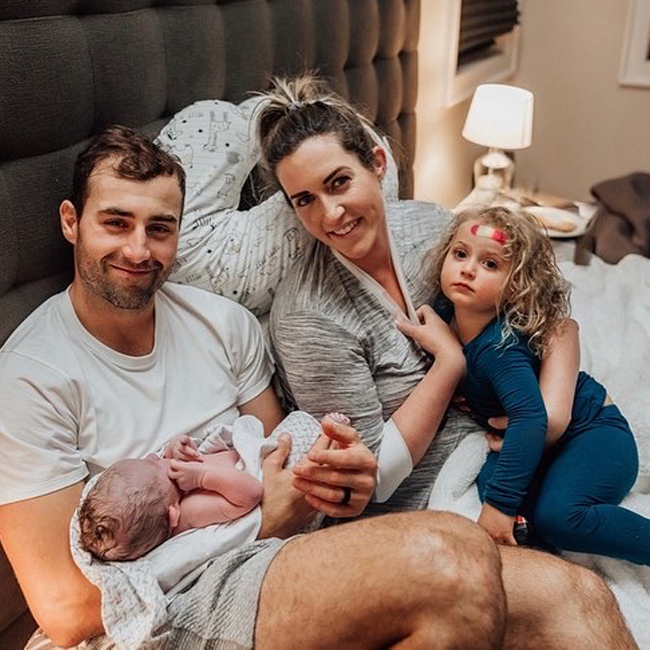 Birth is beautiful!!
Some other posts that may interest you:
All Your Hypnobirthing Questions Answered
How I Prepared for an Unmedicated [Natural] Childbirth
So, You're Interested in Home Birth – Q & A