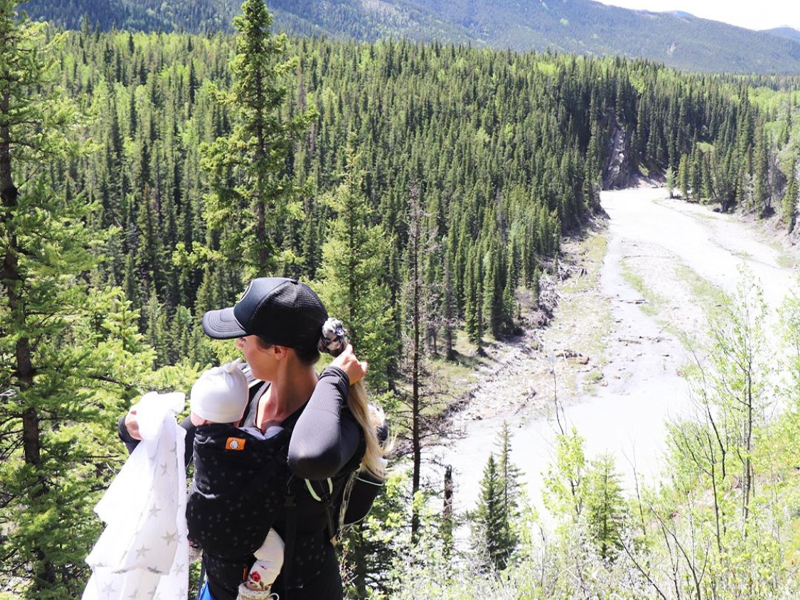 At the time I'm writing this, my little munchkin is about 4-months-old, and so far, has loved hiking! I'm hoping the "start them young" thing helps her find her love for nature and getting out to the mountains as the years go on! I've gotten a lot of questions about hiking with a baby, so I thought I'd compile all the questions together and let you know what works for us. Because this is hiking with a newborn, I know my answers and what I do will change as she gets bigger and older, so I will write another post at a later date.
Hiking with a newborn means changing your mindset of what a hike will look like. In the past, I've done some pretty crazy hikes. And for the most part, I liked the difficulty level to be moderate to difficult, as often as I could. Not that I didn't still love and do the easy-level hikes. But, my point in stating this is to emphasize that if you're a wild adventurer, you will need to shift your mindset to frame around hikes that are baby-friendly, and baby-safe. I can tell you that getting out in nature with my little one fills my heart with so much love, and pride, and happiness!
A glimpse into our best hikes:
So far, what has worked best for us, is letting C have her first nap of the morning at home, so she gets a full, uninterrupted nap in. Then she feeds, I change her, and we head to the mountains. Hopefully that driving time will give her a little bit of a nap. Once we arrive, I feed her and change her in the car (I have definitely fed her on the trail too, which I'll talk about in the questions below), and then get her in the carrier to start our hike. I've chosen hikes that are easy-level (because I'm still front-carrying her, so I don't want to risk tripping or not being able to climb up sections, etc.), that max out at around 2 hours, and max out at around 5-6km. Then back at the car, I usually feed her and change her again before our drive back home, where we have a bath, and finally let C have another uninterrupted nap!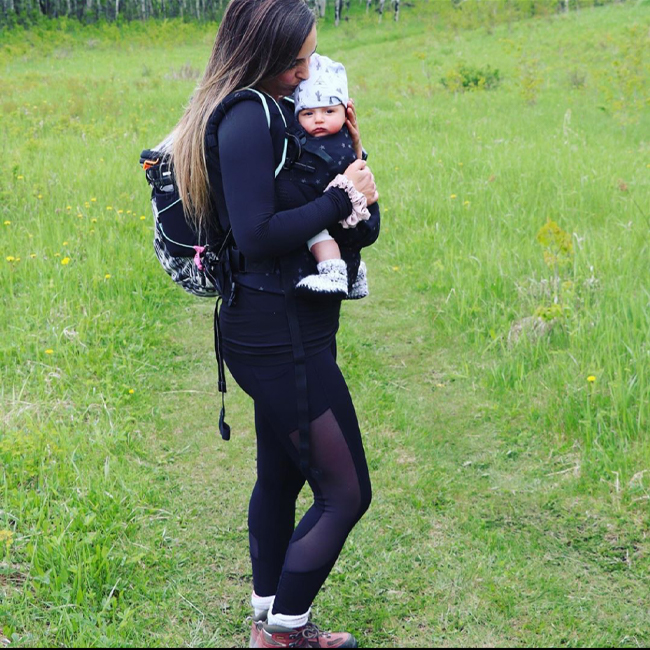 What kind of carrier do you use/recommend?
Right now, I have C in the Tula Free to Grow, which I love for support while hiking (you can use code LAURENEB5 for 5% off anything Tula). Once she is older, I'm switching her to the Osprey Poco, which will then serve as the carrier and the hiking backpack. So far, we have been doing short hikes, so I don't need much, but if you're hiking with someone that isn't carrying a child and can handle some of the hiking goodies in their backpack, that's a bonus!
What do you wear while hiking with baby (Where do you get your nursing athletic clothes)?
I've just been wearing my usual Lululemon, and then wearing an athletic nursing bra. My favourite athletic nursing bras so far come from Cadenshae. I like to wear a long sleeve Lululemon shirt right now with the carrier, but that could change! And then I like to wear good hiking boots with ankle support, considering I'm really watching my steps in front of me while being front-loaded. I love my Vasque hiking boots. Salomon is another great brand. But when it comes to hiking shoes of any kind, you do really want to try them on, because everyone's feet are so different.
How do you wear your hair while hiking?
This is surprisingly a question I get a lot. Prior to hiking with baby, I would put it up and down, up and down, because having it down with the wind cooled me off, but then if I wanted it off my neck, it would end up on top of my head. Sometimes, I wore hats. Since carrying baby, whatever style it is in, is how it's staying. Because she's on my front, it doesn't matter too much if I have it up, down, or in a hat. I'm sure once she's on my back, I'll want it less grab-able!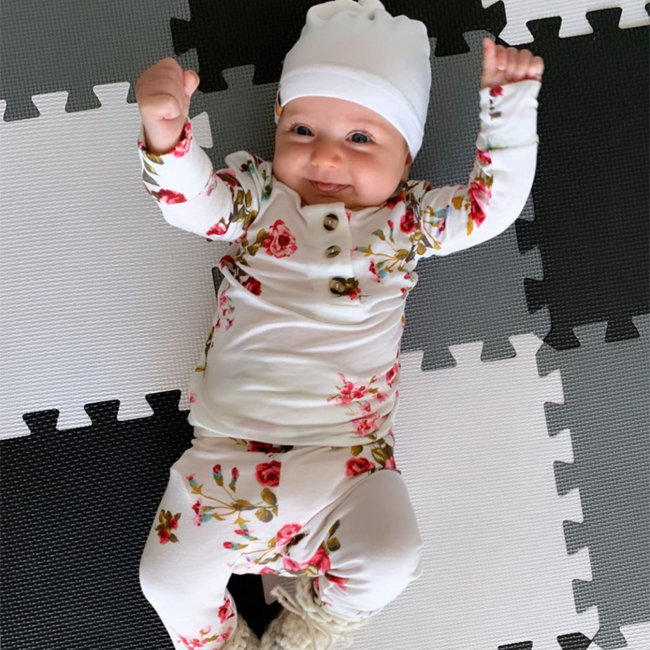 What do you dress baby in while hiking (How do you make sure baby doesn't get too hot)?
This is the biggest concern – keeping baby cool enough, while still covered up. Because she isn't 6 months yet, I can't put sunscreen on her (once she can use sunscreen, I plan on using a mineral-based sunscreen, and will use ThinkBaby or Pipette). So far, I have been dressing her in long sleeve shirt and full length pant bamboo clothing, so she's fully covered, but still very breathable. Some great companies for this are Lou Lou and Company, Kyte Baby, and Bambi and Birdie – I do know it's pricey, but if it's manageable, you could have one single outfit that they use for all their hikes – it really does keep C at a good temperature! Merino wool base layers are also great for this, as they keep baby warm in the winter, and cool in the summer – I like ik'splor. Then, I have an SPF Sunhat from Honeysuckle (or Jan and Jul) that she wears to protect her face, head, and neck from the sun! On hotter days, I have packed a stroller fan just in case, but so far, I haven't had to use it. I always have a burp cloth with me as well, and lastly, I have a change of clothes for her waiting in the car for after, because even if she's cool enough, she will still be covered in some of my sweat, so I like to give her a fresh change of clothes before our long drive back!
What type of hikes do you suggest with baby?
Like I said at the beginning, keep it simple, keep it safe, and keep your expectations at bay! I think just getting out and doing it, getting them used to it, and getting you used to it, is what it's all about. I'll share a post soon about very family-friendly hikes, but I have shared other beginner-friendly hikes in the past years – here and here. My rule of thumb so far has been to try keep it under two hours and under 6km! Granted, if you have young kids walking the trail with you, realize that the distance will take twice the amount of time…more on that in a minute.
Do you have family-friendly hike suggestions for near Calgary/Edmonton/NewYork?
For around the Calgary area, you'll be considering Bragg Creek, Kananaskis, Canmore, Banff, etc., you'll find lots about those areas in my Alberta hiking posts. I'll keep those suggestions coming. For Edmonton, you may be looking at heading to those areas, or Jasper, but don't forget about even testing out your hiking gear in the beautiful Edmonton Ravines. For Calgary too, you may look into Fish Creek Provincial Park! For family-friendly adventures in New York, I have not stroller-friendly suggestions here and stroller-friendly suggestions here, or you could head Upstate!!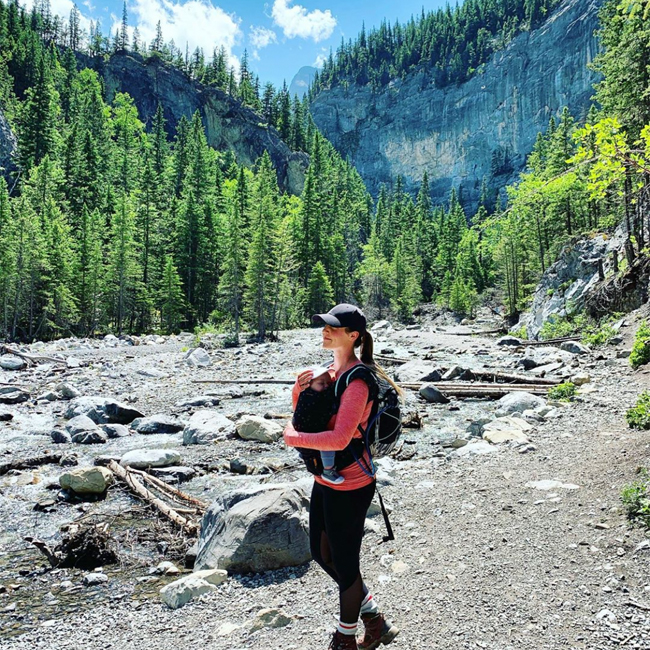 What do you carry in your backpack?
I carry a whole lot less than I used to. Here are some essentials: bear spray, emergency kit, water pack or water bottles, snacks, diapers, diaper wipes, burp cloth, hand sanitizer and/or hand wipes. You may want to consider additional sunscreen, bug spray, rain cover, extra layers, etc. depending on the weather (some of this stays in my car).
Do you have a baby-friendly bug spray suggestion?
This hiking season I started using Essentials by Nature Bug Spray. I don't put the bug spray directly on C, but spray on myself and on the outside of her carrier. She has been safe from all mosquitos, so I'm not sure if it's the magic of the spray, the magic of breastfeeding, or the magic of her blood. Could be a combo of all three! 3momsorganics Tick Spray also works great to keep the bugs away!
What do you eat during these hikes?
Hikes for me used to mean getting to the lookout point, and full on eating a meal and enjoying the view, and then carrying on. Now, unless we were to do a shorter hike, I don't spend the time pausing and eating (unless it is to feed C), because I want to get more of the hike in, with still time to get her back to the car for her next feeding, etc., so, although we've packed lunch, it will now usually be enjoyed before or after the hike, with snacks eaten on the go. How you want to handle food is up to you – you'll find what works best for you and your little babe! I personally find it nice to get her comfy in her carrier and then keep trekking along!!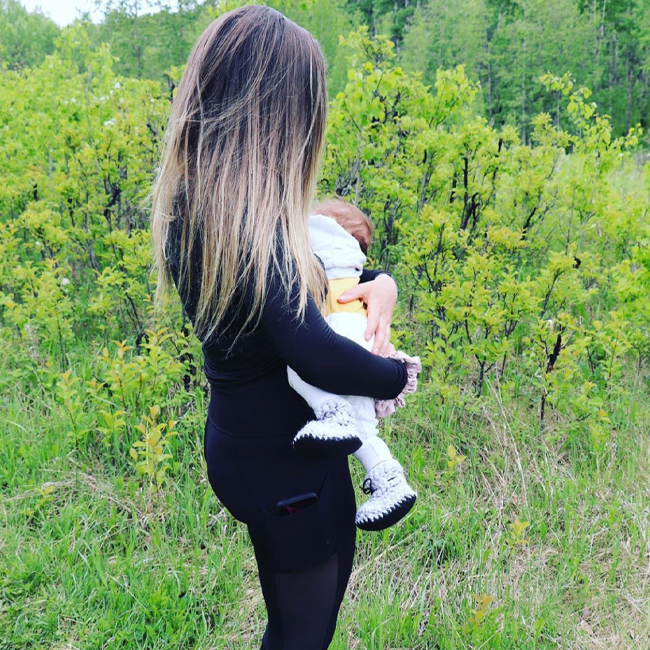 Where do you feed baby?
I almost always do a feeding in the car before and after the hike, because we have long drives both ways. But, a couple times I didn't feed her before the hike (in the car) – in those cases, I fed her at home, did the drive, and started the hike, which meant we fed on the trail. I'm comfortable nursing standing up, but if you're not, you would want a change pad, or a padded seat (I have something similar to this from MEC for when we are hiking in the snow) for sitting on. So, the feed before and after has become our favourite rhythm thus far!!
How do you handle nap times on hiking days?
The best thing to know about naps, is that they will completely get messed up, but it's so worth it! In my perfect world, if it works for everyone involved, I like C to have her first good, long nap at home, and then head to the trail for an afternoon hike. That way she's happy and well-rested. Once we get going, there's so much fun and stimulation, that it's mostly just cat naps for her – a little in the car, a little in the carrier. You may have a kid that naps the entire time in the carrier, and then you could actually plan hiking around nap time, but I feel more often than not, babes are excited about all they are surrounded with – C loves staring at the blowing trees! After we get home, C has a bath, and then she is wiped out and wants another long nap!
Do you have any advice for hiking with a toddler?
When I talked about changing your expectations for hiking with a baby, you also really need to change your expectations for hiking with a toddler. With babies, you can still go at a pretty good pace, but with toddlers doing the trail on their own little legs, everything is much slower. Be prepared to stop lots – I really suggest having a scavenger hunt (you can print one here), and have lots and lots of snacks. I suggest starting with a very short distance and evaluate increasing the distance from there. It will take double the time with toddlers, so don't expect to start with a 10km hike, by any means – don't be shy to start with a 2km hike – it's just getting out and doing it that's most important. Plus it's always nice to end on a high note, where the kids say that they had so much fun and ask to hike again!
I hope I get to see and/or hear about your adventures exploring with baby!!